WHAT'S HAPPENING: Rivers pose epic Florence flood risks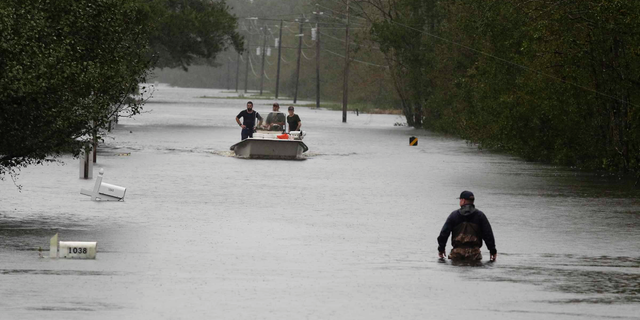 MIAMI – A heavy-duty response already is slogging through heavy rains and floodwaters to help people trapped or displaced by Florence's watery onslaught. Storm winds might be dropping, but rivers are rising and the next few days could bring the most destructive round of flooding in North Carolina history. Meanwhile, half a world away, Hong Kong was braced for the strongest typhoon to hit in nearly two decades.
BY THE NUMBERS
—Storm deaths: Florence is being blamed for at least 15 deaths in the Carolinas, while Typhoon Mangkhut has killed at least 66 people in the Philippines and China.
—Heavy rains: Nearly 34 inches (86 centimeters) of rain fell from Thursday through Sunday in Swansboro, on the North Carolina coast, according to the National Weather Service
—In the dark: About 740,000 outages as of Sunday morning, mostly in North Carolina
—Protected: About 15,000 people in shelters in North Carolina
—Grounded: More than 2,400 flights canceled
—Storm losses: Mayor of New Bern, North Carolina, says his city has 30 roads still unpassable, 4,200 homes and more than 300 commercial buildings damaged, 6,000 customers without power and 1,200 residents in shelters
—Evacuations: Over 2.4 million people in southern China's Guangdong province and nearly 50,000 fishing boats called back to port to escape Mangkhut.
IMAGES FROM THE GROUND
Images captured by Associated Press journalists show flooding caused by Florence in the Carolinas and Mangkhut in the Philippines .
TYPHOON MANGKHUT
Social media posts from Hong Kong show the storm shattering glass windows on commercial skyscrapers, sending sheets of paper pouring out of the buildings, fluttering and spiraling as they headed for the debris-strewn ground. In the Philippines, dozens of people, mostly miners and their families, are feared trapped by a landslide triggered by the typhoon in a mountain province.
TWO MAJOR STORMS
Florence and Mangkhut roared ashore the same day, half a world apart, but the way they spread devastation was as different as water and wind . Experts say Mangkhut may well end up being the deadlier storm, though Florence could tally a higher insured damage total.
FLORENCE FATALITIES
Among the latest storm-related deaths in South Carolina confirmed by authorities: a Carolina man who drowned when a pickup truck flipped into a drainage ditch, a couple who died of carbon monoxide poisoning running a generator indoors, a woman whose vehicle hit a tree branch and a pickup truck driver who died after the vehicle struck an overpass support beam
WILMINGTON STRANDED
Authorities are planning to airlift food and water into Wilmington, North Carolina, because storm damage cut off road access on Sunday. But while the city was inaccessible from the outside, streets in Wilmington were busy with people looking for supplies in businesses that had power.
FIND ALTERNATE ROUTES
Officials say closures could last up to a week along Interstate 95 in North Carolina. The highway could be flooded near Fayetteville and near the South Carolina state line because of expected flooding in the Cape Fear and Lumber rivers. A 16-mile (26-kilometer) stretch of I-95 near Dunn was already closed Saturday.
COAL ASH
Duke Energy says heavy rains from Florence caused a slope to collapse at a coal-ash landfill at a closed power station near the North Carolina coast. A spokeswoman says contaminated runoff — enough to fill roughly 180 dump trucks — likely flowed into the plant's cooling pond, and it was not yet clear whether any contamination may have flowed into the Cape Fear River.
NORTH CAROLINA RECOVERY
Emergency management officials and nonprofit groups aren't waiting for Florence's rains to end or floodwaters to recede before starting to help people recover from the storm. Tens of thousands of meals were being prepared to serve in the most damaged areas, and hotel rooms and other temporary housing are being located for people displaced from their homes.
OUTER BANKS
Outer Banks residents and businesses owners are reporting relatively minimal damage in the low-lying barrier islands. Though the popular North Carolina tourist destination seems to have been spared the worst of Florence's wrath, the islands still have some of the fastest rates of sea level rise in the world, nearly an inch a year.
FLOOD INSURANCE
When Florence's floodwaters recede, they may reveal gaps in flood insurance coverage . An Associated Press analysis found there are roughly 5.1 million active flood insurance policies in the U.S., and while many new policies were signed after Hurricane Harvey flooded parts of Texas and Louisiana last year, not all vulnerable homeowners are covered.
RECOVERY SUPPLIES
The government can only do so much when a storm strikes, so hardware and building supply companies get ready with batteries, gas cans, tarps and chain saws long before landfall. Home Depot and North Carolina-based Lowe's — the two biggest home supply companies — both activated sophisticated emergency command centers with their own meteorologists.
WILD HORSES
Wildlife experts say there was no need to worry about a herd of wild horses that roams North Carolina's Outer Banks. The Corolla Wild Horse Fund posted a Facebook update Saturday saying the herd of wild Colonial Spanish Mustangs were "doing their normal thing — grazing, socializing, and wondering what us crazy humans are all worked up over."
___
For the latest on Hurricane Florence, visit https://www.apnews.com/tag/Hurricanes