What happened to Saddam's hand? Marine vets seeking statue part they took 15 years ago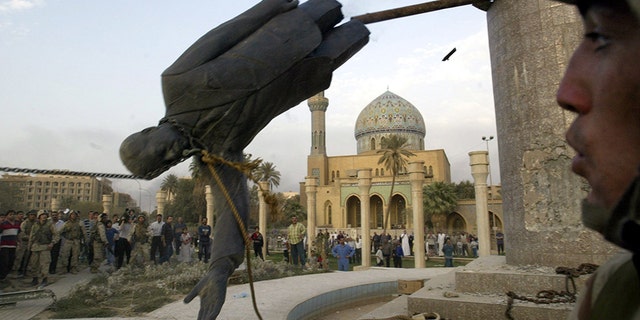 One of the enduring images of the Iraq invasion was the toppling of a large Saddam Hussein statue in Firdos Square on April 9, 2003, that came to symbolize the fall of the mad tyrant's bloodthirsty regime.
Now 15 years later, three Marine vets from the unit that helped Iraqis tear it down are trying to solve a mystery: what happened to the bronze statue's 100-pound hand that they attempted to bring back to the U.S.--without success.
Cpl. Kelly Mercer of Las Vegas went on Facebook two weeks ago and told the story of how he and his buddies wound up with the war trophy.
"That night after our unit tore down the statue, Joel Ruiz, Erik Walther, Angel Toral and I spent hours cutting with a hacksaw and prying with a tank bar until we broke the hand from the statue," he wrote.
"I tried bringing it back with the armory gear, but was caught. My CO said that the Marine Corps wanted to put it in a museum. It was supposed to be embarked back to the US, but soon disappeared."
At first, they drove around with their new prize in a truck, once they left the scene.
The Jackson Clarion-Ledger reported Saturday that Ruiz crawled inside the hand and wrote an inscription with a Sharpie, staking ownership to it.
"Down where the fingers were, and he wrote, 'Property of Kelly Mercer and Joel Ruiz,'" Mercer told the paper.
What followed was a certain amount of secrecy, according to the paper. They thought it could be worth a lot of money.
"We hauled it around with us for the next month because we thought we were going to bring it back," Walther, of Utah, said. "We showed it to some people once we got back into Kuwait, but I don't think we showed it off when we were in Iraq. We kept it under wraps there."
After the failed effort to get the hand back to the U.S., Mercer couldn't figure out what happened to it.
"I've recently contacted my CO and some officers from my company, but no one has heard anything about it," he said in his Facebook post.
He told the Clarion-Ledger that he heard it was going to be shipped to Camp Pendleton in southern California and put on display.
It was signed over to a transport officer who was supposed to have it embarked with the assault amphibious vehicles, but it never arrived, according to the paper.
"The reason that hand is so important to us is because we literally thought we were going to die out there — 'I'm probably going to die," Ruiz, of Texas, said.
"That hand represents hope because it allowed us psychologically to think outside the war and envision going home and enjoying our riches, just for a little while."