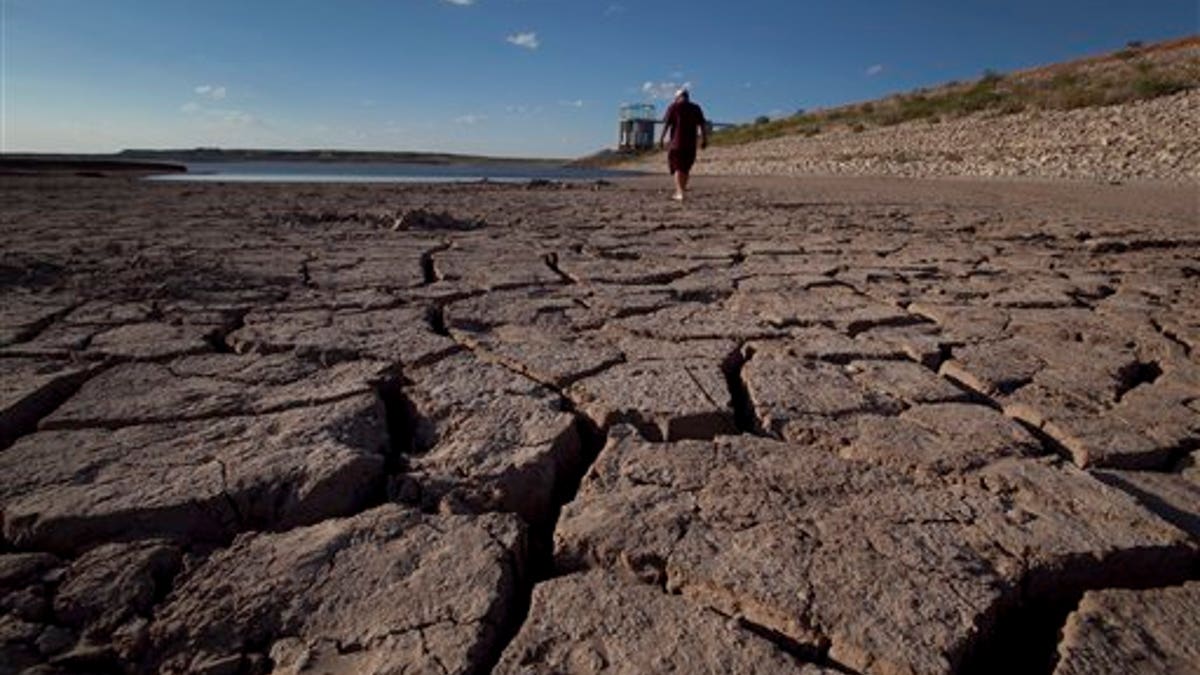 ROBERT LEE, Texas – Ranchers in pickup trucks here stop to ladle up puddles of street water after underground pipes crack, and wilting trees are quenched with dirty bathwater hauled from tubs to front yards. An April storm teased Robert Lee, but instead of rain, a lightning strike started a wildfire that chewed up 169,000 drought-starved acres.
"We can't catch a break," said Eddie Ray Roberts, the city's water superintendent.
The worst Texas drought since the 1950s has this ranching town of nearly 1,110 residents, and a handful of other cities, facing a prospect they've never encountered before: running out of water. One city outside Dallas, Kemp, already experienced a dress rehearsal this month when every faucet was shut off for two days to fix pipes bursting in the shifting and hardening soil.
Many lakes and reservoirs across the state are badly depleted after more than a month of 100-degree temperatures and less than 1 inch of rain. Robert Lee's water supply lake is fast becoming a mud hole. The worst-off communities are already trying to run pipes to distant water lines, drilling emergency wells and banning water use for virtually anything beyond drinking, bathing and keeping businesses working.
"We've certainly seen a broader use of those plans over a larger portion of the state than we ever have before," said Andrea Morrow, a spokeswoman for the Texas Commission on Environmental Quality.
Worst-case scenarios have a few towns running out of water in a matter of months. Although Texas cities have gone bone-dry before — country star Billy Ray Cyrus sent a truck of bottled water to Throckmorton when the town tapped out in 2000 — the nearly 500 water systems statewide now under some mandatory restrictions appear unprecedented.
The prospect of no water is a cruel irony for Robert Lee, which was proclaimed the county seat in 1891 because its water supply was so plentiful. The town's water source, Lake E.V. Spence, normally covers more than 22 sq. miles and made Robert Lee a popular boating getaway where reckless kids dived down from the tall, surrounding bluffs. Today, jumping would be a perilous fall onto a shoreline of rocks, and island-like sand dunes widen by the day.
The town's desperate straits have extinguished any Texas-friendly, we're-in-this-together spirit among neighboring cities: Robert Lee is pumping Lake Spence around the clock to move what little water is left into an exclusive reservoir, in what is practically a game of keep-away. Once the water is transferred, engineers expect the town to have enough through at least the spring.
Others aren't so sure.
"They say they have enough water until March," said Scott McWilliams, a hydrologist with the Upper Colorado River Authority. "I don't necessarily see it."
In October, the city hopes to break ground on a pipeline connecting to the water system in Bronte 12 miles away, giving Robert Lee a second water source. Yet the fix may only be a temporary balm: Roberts said the pipeline will supply 200,000 gallons daily. Even under the severe restrictions now, Robert Lee is using 220,000 gallons.
Prized as Lake Spence's dwindling supply is, the actual water is terrible. The lake is less than a half-percent full, making what's left thick with saline and sunken dead matter, and almost too contaminated to be treated.
Beverly Hawkins, who manages the only florist shop in Robert Lee, turned on the sink in her store last week to fill a vase. She put her finger in the water and dabbed it on her tongue.
It tasted salty as seawater.
"It's been worse. At least this time it's clear," Hawkins said. Like most people in Robert Lee, she brushes her teeth with bottled water.
Prayer gatherings for rain have been held outside the courthouse. Rancher Dolores McCabe Seal said it's almost impossible to get a sheep shearer to come to Robert Lee because so many farmers have sold off their herds. At Cindy's convenience store, owner Cindy Brown didn't bother ordering the 300 petunia baskets she typically sells each Easter, since no one in town would be allowed to water them anyway.
Each day, a truck from nearby Bronte hauls 6,300 gallons of water to Robert Lee High School to irrigate the football field, at a cost of $200 per trip. That keeps the ground soft but far from green, and there's practically no grass.
"Three years ago it was like playing on a green or a fairway," football coach Shay Avants said. "We'll have a little bit of home field advantage now, I guess, because we'll know what it's like to run in the sand."
In the town of Llano, near Austin, officials have made a contingency plan to roll trucks of bottled water into town if rain doesn't start to replenish the water supply, and workers are drilling test wells into parched, rock-like soil. Water restrictions are in effect in unprecedented in places like Midland, where lawns in the oil-rich Permian Basin have typically remained lush even as previous droughts burned up millions of dollars in surrounding crops. But barely a half-inch of rain has fallen in Midland since October.
Kemp's emergency shortage was caused by aging underground pipes that burst in the dry, shifting soil baked under a streak of 100-degree afternoons.
The same problem has worsened Robert Lee's plight. Roberts said the city lost four days' worth of water in one week from breaking pipes.
When that happens, water seeping through the cracked asphalt is greeted like a sprung oil well: ranchers stop to fill tanks rattling in the beds of their pickup, containers that Brown calls "the new fashion statement around here." Others emerge from homes with five-gallon buckets, scoop what they can and dump it on their trees
Whether Robert Lee can complete the pipeline to Bronte before its own supply runs out is the "$65,000 question," said Jeff Walker, director of project development for the Texas Water Development Board.
"Best thing is to get some rain," Walker said. "That would solve everything."