Waffle House shooting leaves 4 dead, several injured; gunman sought
An urgent manhunt is underway Sunday for a shooter who gunned down at least four people and injured several others at a Tennessee Waffle House before a "hero" patron wrestled the weapon away, police said.
Authorities surrounded an apartment complex where they believe alleged gunman Travis Reinking, 29, may be hiding after he shot at patrons at a Waffle House in Antioch, located about 16 miles southeast of downtown Nashville. They reportedly later cleared the area after it appeared Reinking was not there.
"A man believed to be Travis Reinking was last seen in a wood line near Discovery at Mountain View Apts. on Mountain Springs Dr. near the Waffle House. The man was seen wearing black pants and no shirt," Nashville police tweeted just after 8 a.m. Sunday, the last time he was spotted.
Don Aaron, spokesman of the Metro Nashville Police Department, initially told WTVF: "If you see a nude guy walking around this morning call the police department."
Reinking, who was last spotted with black pants and no shirt on after fleeing the scene naked, pulled up to the restaurant in his pickup truck about 3:25 a.m. and fatally shot two people outside with an assault-type rifle, police said. The alleged shooter then gunned down patrons dining inside, killing at least one person. Another individual died at the hospital.
No further details about the victims were released.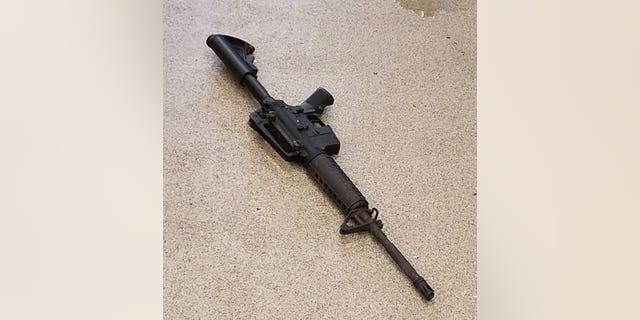 Chuck Cordero, who is a regular customer and friends with the employees at the Waffle House, told WTVF he was waiting outside the restaurant when he heard gunshots. Cordero said the restaurant was busy and he was waiting for the booth he usually sits in to clear out.
"I showed up tonight and they were a little busy so I stayed in my car. As I got out, this lunatic in a pickup pulled up," Cordero said. "[The gunman] shot a customer going in the door, shot my friend on sidewalk, shot through windows and then went in shooting. He pulled up, got right out; he was prepared to do what he did."
A 29-year-old patron, identified as James Shaw Jr., was attempting to flee the gunfire when he saw the shooter struggling with the rifle at one point. Shaw told the Tennessean he saw an opportunity and charged at the shooter, wrestled the weapon away and tossed it over the restaurant's counter.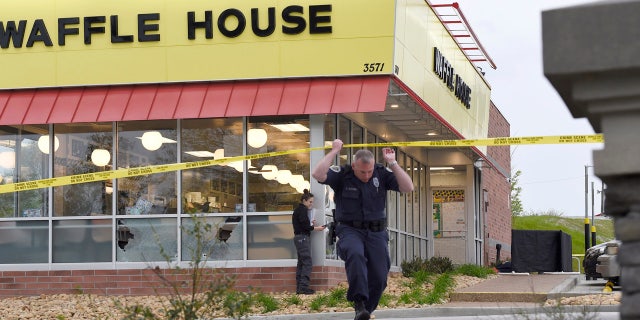 "He is the hero here and no doubt he saved many lives by wrestling the gun away," Aaron said.
Cordero said he also saw a man who "jumped in" as the gunman was reloading the rifle.
"There's a gentleman who was in there that when the guy stopped to reload his gun he jumped him," Cordero recalled. "Had that guy reloaded, there was plenty of people in that restaurant that would not have made it home this morning."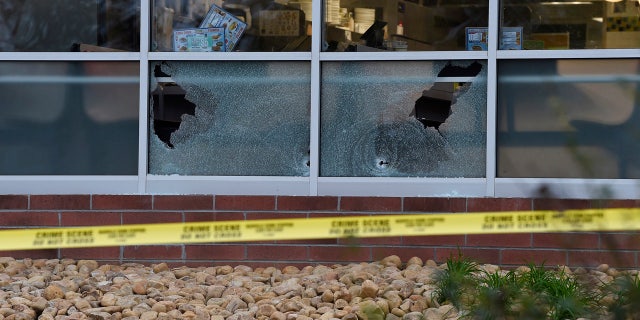 Shaw suffered an elbow injury and other abrasions when he was grazed by a bullet. He was treated for his injuries and released from the hospital.
At least two of the four injured suffered gunshot wounds. One person is said to be in critical condition and another is in critical but stable condition, FOX17 reported. Aaron said some people at the restaurant had "visible cuts" on their faces due to flying glass when shots were fired.
"The people inside the restaurant were very very shaken. They were in tears," Aaron said. "Some of the folks who didn't have to be transported [to the hospital] had glass wounds on their faces."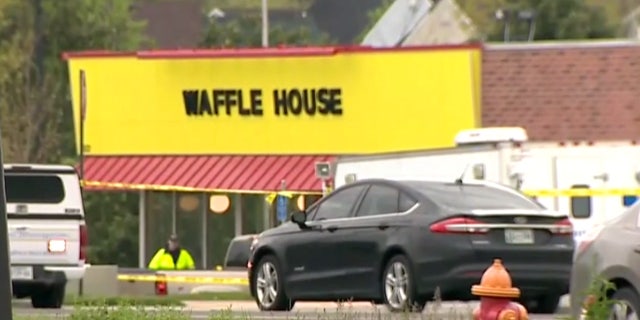 Police initially described the gunman as a man with short hair who was last seen walking on Murfreesboro Pike after the shooting. They added that Reinking allegedly shed his green coat after firing his gun and is nude. Reinking reportedly then ran to a nearby apartment complex, where he lives, and put pants, Aaron said. Several residents in the area reported seeing a naked man in the area.
Authorities identified Reinking as the suspect after finding the vehicle allegedly used by the gunman was registered in that name. Aaron said officials are still gathering information on Reinking, but found that the alleged gunman's license "goes back to Illinois." Nashville police checked with authorities in Illinois who said Reinking has a history with firearms in that state.
The motive of the deadly shooting or why Reinking was in Nashville is still unclear.
UTAH PARENTS KILL THEIR 2 CHILDREN BEFORE THEMSELVES AFTER BELIEVING MOM HAD TERMINAL DISEASE
Pat Warner, Waffle House's director of PR and external affairs, said in a statement to Fox News that members of management are at the Nashville location assisting with the incident. He deferred all other questions to the Metro Nashville Police Department.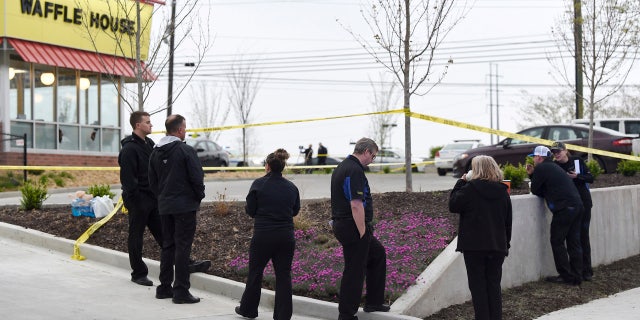 "We are deeply saddened by this tragic incident. Right now, our first thoughts are with the victims and their families, and we will be there for them in this most difficult time. We are still gathering the details, and so we do not have much information to share," the statement read.
"This is a very sad day for the Waffle House family, and we ask for everyone to keep the victims and their families in their thoughts and prayers," Warner added.
Nashville Mayor David Briley tweeted: "It's a tragic day for our city anytime people lose their lives at the hands of a gunman. My heart goes out to the families & friends of every person who was killed or wounded in this morning's shooting. I know all of their lives will be forever changed by this devastating crime."
Tennessee Gov. Bill Haslam said he and his wife, Crissy, "are deeply saddened by the tragic incident in Antioch early this morning, and we mourn the lives taken in this senseless act of violence."
The Associated Press contributed to this report.