Arizona volunteer finds $4G in hollowed-out book, then tracks down owner, returns cash
A full-time book sale volunteer who discovered stacks of hundred dollars bills alongside a family letter tucked into an old novel immediately tracked down the owner so she could return the large sum of money.
Cathy McAllister, a retired teacher and lifelong book lover, has been giving her time to the Volunteer Nonprofit Service Association (VNSA) in Phoenix, Ariz. leafing through thousands and thousands of donated books since 2012. So she had to do a double-take and was left "speechless" when she found $4,000 worth of cash in a book she described as "a little tattered around the edges" and "not a big seller."
TEXAS COUPLE: GOD 'PURPOSEFULLY CONNECTED' US TO KIDS FOUND CHAINED IN HORRIFIC ABUSE CASE
"I was totally stunned," McAllister told Fox News with laughter. "Truly I was unable to find words. There were people in the category next to mine talking. I just took the open book and interrupted the conversation until I was able to say, "Look what I found!'"
MAILMAN SAVES MAN'S LIFE DURING HIS DELIVERY ROUTE
She held an old copy of "The Rise and Fall of the Roman Empire," one that she normally would've discarded to be repurposed instead of sold, but she said she wanted to justify her guilt of throwing out the classic by leafing through it just in case it had smokey or smelly pages.
"I don't know what that was, I was literally throwing it in the discards," she said. "It was just a feeling."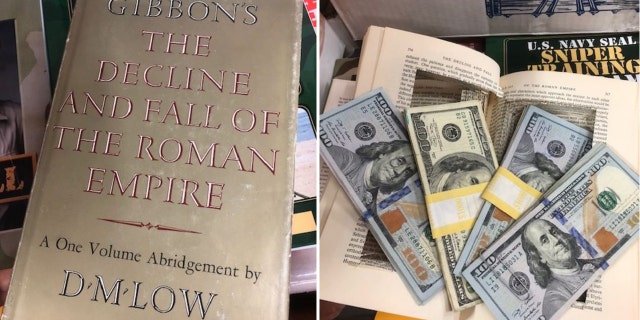 She told the local Fox affiliate, FOX 10, she didn't think it was real at first.
"I had the book in my hands," McAllister said. "I was ready to toss it, because we had several copies already...but when I fanned that book out, there's a big hole carved out in the book amongst the pages, and I look down in there and I thought, 'It's monopoly money. Oh how fun,' but it's not monopoly money. It was all banded as it comes from the bank. It was four packages of $100 bills."
CLICK HERE TO GET THE FOX NEWS APP
But she also discovered a family letter that said to whom the money belonged. That was how she located the family within 10 minutes of opening the hidden treasure.
"It was a little bit surprising because this gentleman came down with his adult daughter, and she said now you can slap him,' and I said, 'No, that's your job," McAllister joked.
The man's four children were stunned and asked him if he did it with any other books, to which he responded no. As for McAllister, she just did what she thought was right.
FEDEX WORKER GOES VIRAL FOR STOP SHE DIDN'T HAVE TO MAKE: 'I PRAY EVERY DAY FOR THE LORD TO USE ME'
"My values were grounded in our faith - that the church taught us what was right and wrong. It just becomes who you are after a while," she told Fox News.
She said it never crossed her mind to keep what wasn't hers.
"In my case, it was my church upbringing," she said. "And my very strict mother."
VNSA volunteers work year-round sorting, pricing, and packing more than half a million books that fill at least nine semi-trailers taken to the Arizona State Fairgrounds every February for a massive used book sale. Proceeds go to two main charities: the Arizona Friends of Foster Children Foundation and the Literacy Volunteers of Maricopa County.