Viral video of NJ suspect attacked by police dog sparks outrage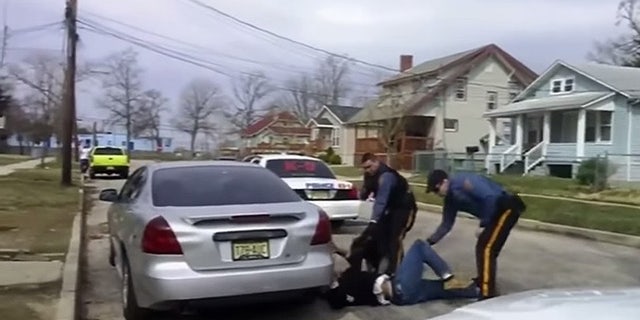 A pair of police officers in southern New Jersey are reportedly under investigation over an in-custody death after a video of the suspect being attacked by a K-9 dog while being subdued was posted online.
Phillip G. White, 32, of Vineland, died in an ambulance enroute to the hospital shortly after his arrest on March 31.
A video posted on YouTube shows that White was attacked by the K-9 while he was pinned to the ground. While the video does not show what preceded the incident, it has sparked outrage, with some claiming that excessive police brutality led to White's death.
Both officers, identified as Louis Platania and Richard Janasiak, have been placed on administrative leave pending a mandatory investigation of the incident by the Cumberland County Prosecutors office and the New Jersey State Police.
"Come! Get 'em! Get 'em!" Platania is heard saying on the video, while he has White pinned to the ground. The dog then latches his jaws onto the suspect's arm for several minutes until he is eventually pulled off.
The attorney representing Platania and Janasiak said that his clients operated within the means of standard police procedure and that White's cause of death was likely due to the fact that he was on a combination of heavy drugs.
"I believe the [toxicology] reports will show that he had ingested a large amount of PCP, cocaine, and another substance," Attorney Stuart Alterman told FoxNews.com. "They [Cumberland County Prosecutor's Office] have not released the autopsy report or the preliminary toxicology. It's unfortunate that they haven't. I may have to file an injunction. It's getting ridiculous at this point."
Officials for the Cumberland County Prosecutors office did not immediately return requests for comment.
Alterman also said that the pair used the K-9 because White had gotten his hands on one of the officer's holsters and was close to grabbing his pistol.
"The K-9 is only used in extreme incidents," he said. "In fact they showed great restraint because they avoided using lethal force."
Vineland Police Chief Timothy Codispoti also said Wednesday that the officers had operated within procedure and that the use of the K-9 was vital.
"That's what did it," Codispoti said to the Daily Journal. "Deploying the dog resulted in Mr. White stopping his aggressive, violent behavior."
Codispoti also said that there were two videos taken during the incident and that they match with radio channel transmissions at the same time.
Police were first called to the scene to determine if White needed medical attention after receiving calls about him acting erratically on the street.
"Obviously, within a minute, it turns into a struggle, a violent struggle, a life-threatening struggle," Codispoti said.
Members of White's family did not immediately return requests for comment.
The public attention to the incident has drawn threats against the two officers. Hacker collective Anonymous first published their identities as well as their addresses.
"It's not a great situation," Alterman told FoxNews.com. "They are really heroes for showing the restraint that they did."
FoxNews.com's Perry Chiaramonte contributed to this report