Veteran wearing MAGA hat goes on Patriotic run with American flag
A Missouri veteran, donning a "Make America Great Again" hat and brandishing an American flag, has been running 15 miles nearly every day for a year hoping to show everyone how much he loves his country.
Elliot Timms was spotted on Wednesday running in Kansas City, a year after he started his now familiar routine of running 15 miles carrying the flag.
Timms told FOX4KC he thought of the idea last year on July 4 after he became frustrated with the political division in the United States.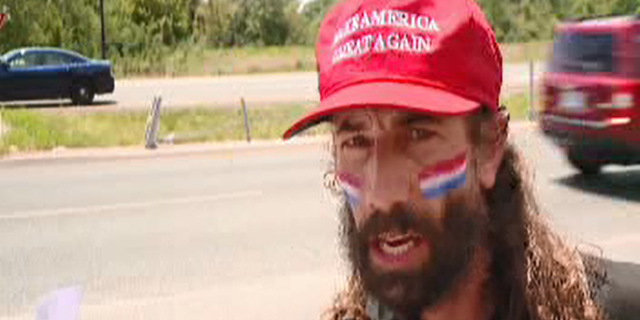 "Showing support for the president and being patriotic should be a given in our country," Timms said.
"For me, the American flag has always been a unifier, not a divider," Timms added. "This display of patriotism is just a small act of humility, hardship and sacrifice to express my commitment and devotion to love of country. It's my way of showing the entire country what America, and being an American, means to me."
The veteran, who served two tours in Afghanistan, has been running 15 miles almost every single day, regardless of the weather. Though he usually makes his daily runs in Kansas City, he has also carried out his patriotic runs in Washington, D.C. three times.
Timms said he hopes his display of patriotism will overshadow the negativity from other American citizens.
"I'm countering voices of negativity and defeatism in our country with a more uplifting, proud, and powerful gesture of patriotism, because those negative voices don't speak for all of America," he said.
He added: "When people see me running across the landscape with the American flag, perhaps it will cause them to pause for a moment and consider the meaning, value and importance of that flag and our country represents."
Timms said he's "humbled and given a sense of pride" from people who have supported his work.
He is expected to head to Alaska to continue his patriotic runs there.