Vessel Built for Wheelchair-Bound Sailors Sinks Off Massachusetts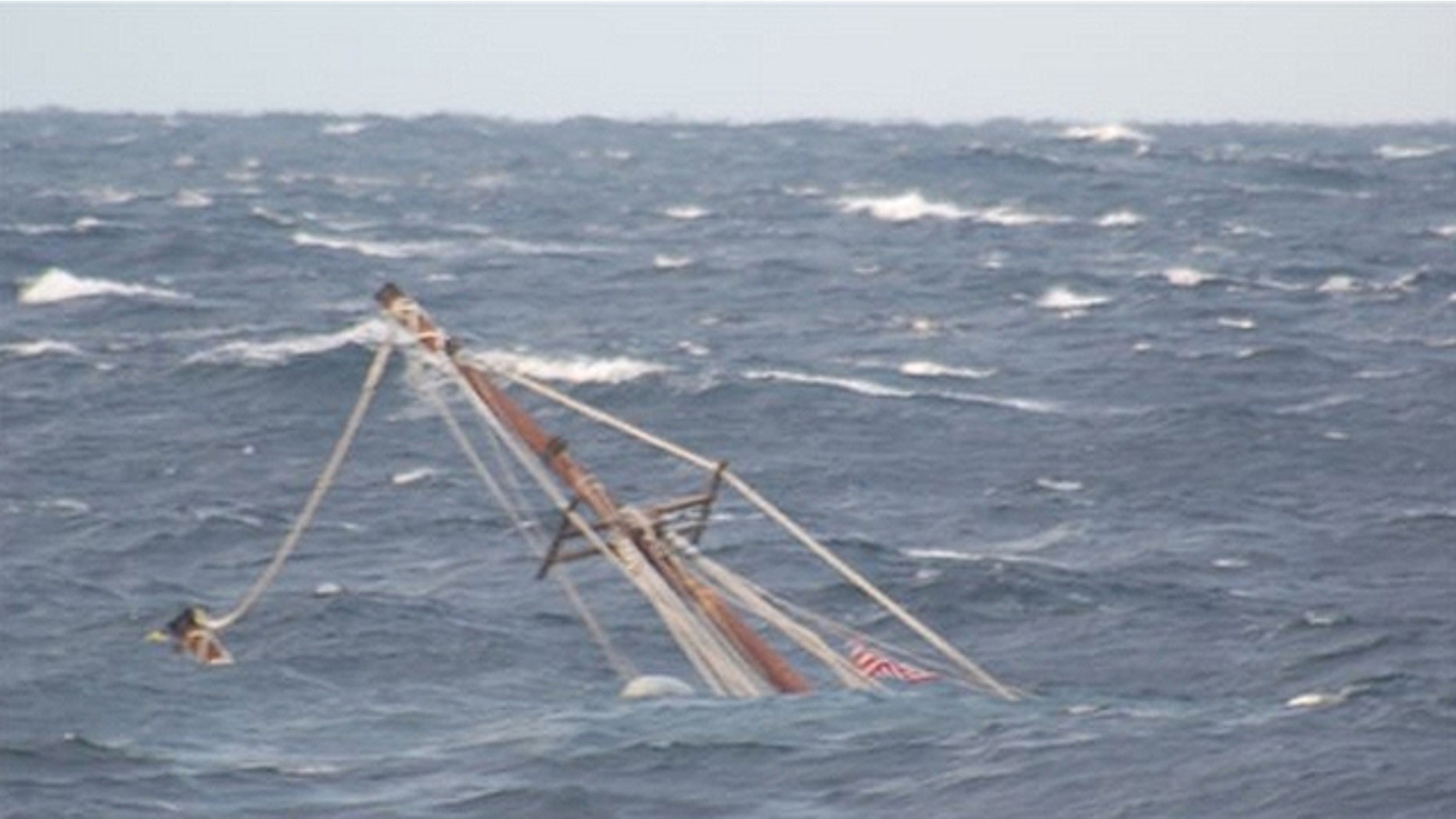 An 88-foot sailing ship designed for wheelchair-bound sailors sank Wednesday morning off the coast of Massachusetts, a day after two men were rescued in a dramatic scene straight out of Hollywood, a U.S. Coast Guard rescue swimmer told FoxNews.com.
The vessel, Raw Faith, sank 166 miles southeast of Nantucket, Petty Officer Connie Terrell told FoxNews.com. She said the water there is 6,000-feet deep and the ship is not considered to be a hazard.
Coast Guard officials received an emergency position-locating beacon signal from the vessel on Monday after the Raw Faith departed Salem, Mass., en route to Bermuda. A Coast Guard helicopter crew rescued two men from the ship on Tuesday afternoon and brought them back to Air Station Cape Cod in Bourne, Mass., officials said.
Two Coast Guard cutters were diverted to assist the vessel, which encountered waves up to 15 feet and winds of up to 30 knots. After weather conditions prevented the Coast Guard from delivering additional safety gear, both members of the crew abandoned the vessel and were later hoisted aboard an MH-60 helicopter.
Randall Rice, a 17-year Coast Guard veteran, said waves up to 25 feet and wind gusts reaching 50 mph contributed to precarious and potentially life-threatening conditions as he saved the ship's captain, George McKay, and another man who was not immediately identified.
"She was getting hit by some pretty hard waves, like 25-footers," Rice said. "I just went, 'Wow.' I was pretty impressed by it. If you've ever seen the 'Pirates of the Caribbean,' that's exactly what it looked like. It was a really rough ride."
Rice said the ship had taken on about two feet of water by the time the Coast Guard arrived. Following the rescue, Rice said he immediately saw the "uncertainty" in McKay's face.
"It's like he lost his house, it's pretty much the same thing," Rice said. "Emotionally, as we were flying back, I could definitely see it in his face. It's just uncertainty."
According to the ship's website, Raw Faith, which was launched in 2003, was designed and built by McKay to be wheelchair accessible.
"Her broad flat decks and wide open interior make it easy for a full participation sailing adventure," the website reads. "Through free sailing adventures, the Captain hopes to bring the rustic and romantic life at sea within the reach of those in wheelchairs."
The inspiration behind the ship's design comes from McKay's oldest child, Elizabeth, who has spent most of her life in a wheelchair due to Marfan syndrome, a genetic disorder.
"After experiencing mountains of bills, restrictions on field trips and family outings, and intra-family stress, the McKays decided to build a sailing vessel that was wheelchair accessible," the website reads. "Thus Raw Faith's mission today is to offer free sailing adventures in order to provide a fun and safe environment for the wheelchair bound and their families to learn how to sail, meet others with similar life situations, and have a fantastic adventure."
Attempts to reach McKay were unsuccessful.