Vatican removes cardinal from ministry after investigating 'credible' claim of sexual abuse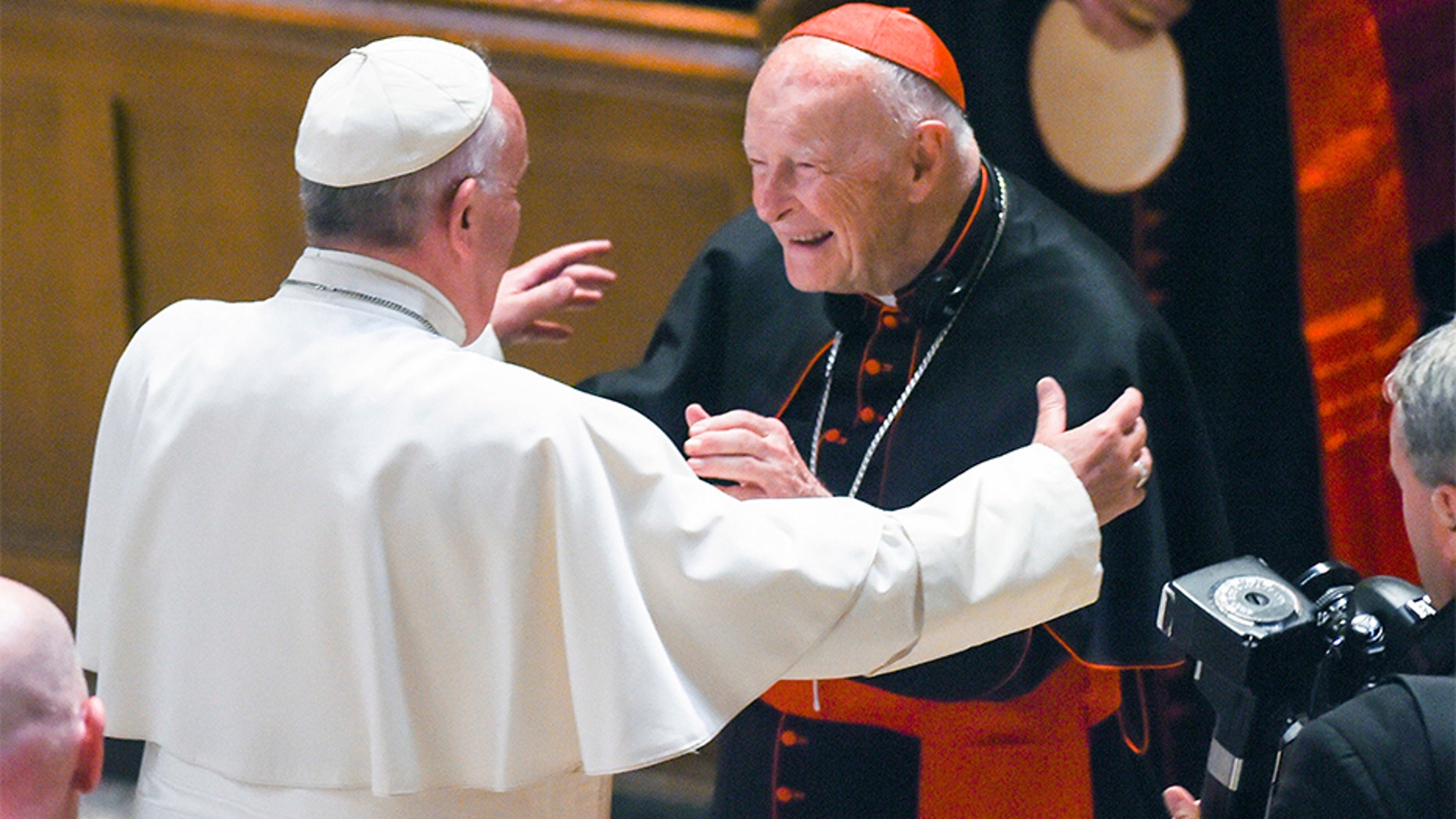 The Vatican has barred an 87-year-old cardinal from exercising his priestly ministry after an investigation found a sexual abuse claim leveled against him to be credible, it announced Wednesday.
The claim against Theodore McCarrick, who now is retired and living in Washington, D.C., alleged that he sexually abused a minor almost 50 years ago when he was a priest in the Archdiocese of New York.
"In obedience I accept the decision of The Holy See, that I no longer exercise any public ministry," McCarrick said Wednesday in a statement. "I realize this painful development will shock my many friends, family members, and people I have been honored to serve in my sixty-years as a priest."
Patrick Noaker, the attorney for another accuser, told Fox News that his client was abused twice, once in 1971 and another in 1972. Noaker said his client was a New York teen who was an altar boy. He said his client was being measured for a robe for Christmas Mass in 1971 when McCarrick allegedly unzipped his pants and sexually assaulted him. The second assault happened a year later in a bathroom in a similar fashion.
McCarrick — who went on to become the Archbishop of Washington — says he was notified by Cardinal Timothy Dolan months ago that claims were being investigated.
"Carefully following the process detailed by the Charter of the American bishops, this allegation was turned over to law enforcement officials, and was then thoroughly investigated by an independent forensic agency," Dolan said Wednesday. "Cardinal McCarrick was advised of the charge, and, while maintaining his innocence, fully cooperated in the investigation. The Holy See was alerted as well, and encouraged us to continue the process."
Dolan said that the "results of the investigation were then given to the Archdiocesan Review Board, a seasoned group of professionals including jurists, law enforcement experts, parents, psychologists, a priest, and a religious sister," which "found the allegations credible and substantiated."
"This archdiocese, while saddened and shocked, asks prayers for all involved, and renews its apology to all victims abused by priests," Dolan said in the statement. "We also thank the victim for courage in coming forward and participating in our Independent Reconciliation and Compensation Program, as we hope this can bring a sense of resolution and fairness."
McCarrick said his "sadness was deepened" when he heard the results of the investigation.
"While I have absolutely no recollection of this reported abuse, and believe in my innocence, I am sorry for the pain the person who brought the charges has gone through, as well as for the scandal such charges cause our people," he added.
Dolan said the claim alleging McCarrick committed sexual abuse around 50 years ago was the "first such report of a violation of the Charter for the Protection of Children and Young People ever made against him of which the archdiocese was aware".
Fox News' Frank Miles contributed to this report.