Utah shooting: Motive a mystery in gunfire that killed 3, including boy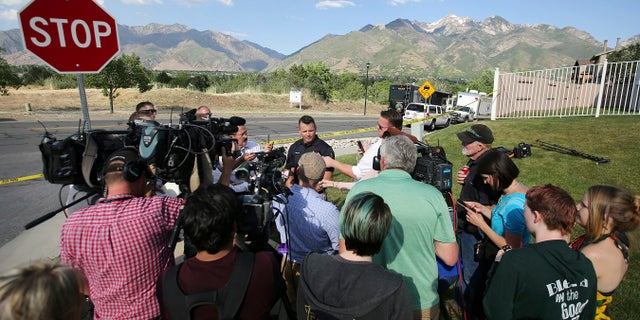 Utah authorities on Wednesday were investigating why a man opened fire at a car in a Salt Lake City suburb in a brazen shooting that left a woman, a young boy and the gunman dead, and two other children injured.

The shooting unfolded Tuesday in Sandy, a suburb about 20 miles southeast of Salt Lake City.
"Preceding this event, what appears to have took place is a good Samaritan saw a female with two juveniles, stopped to help them, to transport them out of the area," Sgt. Jason Nielsen, of the Sandy City Police Department, told Fox 13. "During that time the suspect actually rammed the good Samaritan's vehicle, bringing it to a stop in the roadway."
UTAH BOY PLEDGES ALLEGIANCE TO FLAG WHEN NO ONE'S LOOKING
After the car had come to a stop, the suspect started firing, police said.
Police found the gunman, a woman and a boy dead, and a boy and girl injured from gunshot wounds. Police have not released their identities or ages. The good Samaritan survived.
The injured boy was hospitalized in critical condition. The girl shot was hospitalized in stable condition.
It is not clear if the gunman shot himself or if someone else involved in the dispute had a gun. Investigators were trying to determine how the suspect was linked to the woman and children.
The shooting unfolded half a mile away from the Brookwood Elementary School, which went on lockdown for about an hour.
It is unclear if any children still at the school witnessed the shooting or heard gunshots, Jeff Haney, spokesman for the Canyons School District, said.
UTAH OFFICIAL NAMED ACTING HEAD OF US FISH AND WILDLIFE
The school district has not said if the children affected by the incident were students at Brookwood.
Colby Corbett, a Sandy citizen, was at his home waiting for his son, Anthony, 8, to return from school when he heard 20 to 30 gunshots within a few seconds.
"I was panicking bad," Corbett said. "I thought it like a gun battle."
Corbett said he was relieved when Anthony arrived home from the opposite direction of the gunfire. Anthony said he was not worried because he thought the gunshots were fireworks.
The Associated Press contributed to this report.