US Sen. Rubio steps up Venezuela rhetoric by suggesting coup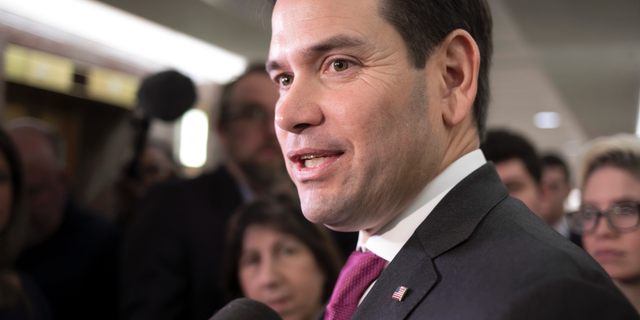 WASHINGTON – U.S. Sen. Marco Rubio stepped up his typically strong rhetoric against the Venezuelan government Friday by suggesting its army should rise up in rebellion.
The Florida senator, who has been an outspoken critic of the government of President Nicolas Maduro, said on Twitter that the world would support the country's armed forces "if they decide to protect the people and restore democracy by removing a dictator."
That tweet did not mention the Venezuelan president by name. But it came just before another one that said that soldiers eat out of garbage cans and their families go hungry while Maduro and his friends "live like kings" amid the economic collapse in the South American country.
Later, he quoted the revered 18th century Venezuelan leader Simon Bolivar and the American Declaration of Independence in a flurry of tweets advocating the right to rise up against oppressive government.
"The Maduro regime is an illegitimate government which has brought suffering and misery to the people of Venezuela," Rubio said in an email after The Associated Press requested comment about the tweets. "As long as he remains in power there is no hope for a return to democracy."
Rubio, a Florida Republican, represents thousands of people who moved to his state to escape crime, economic deprivation and unrest under Maduro and his predecessor, the late Hugo Chavez. The senator was the main driver of sanctions against top level officials for human rights abuses and ties to drug trafficking. He was also behind an Oval Office visit for the wife of detained opposition activist Leopoldo Lopez at the start of the Trump presidency.
Venezuela's government had no immediate reaction to the tweets, which came days after U.S. Secretary of State Rex Tillerson finished a tour of Latin America and the Caribbean and said the U.S. is considering restricting oil sales from Venezuela because the political situation there has steadily worsened.