US rabbis ask Obama to step up efforts to free aid worker from Cuban prison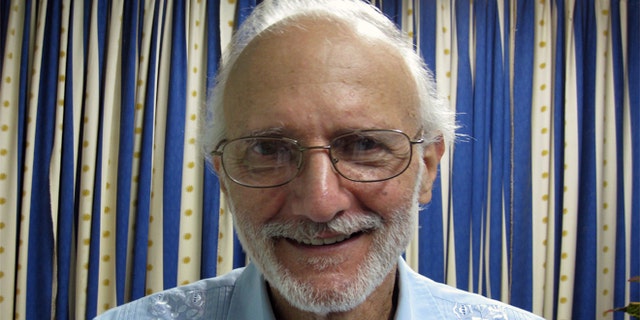 NEWYou can now listen to Fox News articles!
In the latest effort to get an American contractor freed from a Cuban prison, hundreds of U.S.-based rabbis have penned a letter to President Obama urging him to "take action" and secure Alan Gross' release after five years of incarceration.
In a letter dated August 1 and addressed to "The Honorable Barack Obama," the 300 rabbis argued their case for the release of Gross, an American citizen who was imprisoned by the Cuban government for his work within the country under a program funded by the U.S. Agency for International Development (USAID).
"Alan went to Cuba on behalf of our government. His immediate release from prison in Cuba and return to the U.S. must be a priority for our nation," reads a line from the letter. "Indeed, we believe this is a moral imperative. Our communities are gravely concerned that Alan continues to languish in a Cuban prison nearly five years after his arrest.
"We ask, with all respect, that you take whatever steps are necessary to ensure a prompt end to Alan's, and his family's, continuing nightmare."
Gross, 65, was convicted in March 2011 of "acts against the independence or the territorial integrity of the state," and is currently serving a 15-year prison sentence. He was originally arrested while working to set up unauthorized Internet networks for the island's Jewish community on a contract with USAID.
He has said that his activities were no threat to Cuba. But officials in Havana consider programs such as the USAID one a threat to its sovereignty. Gross was convicted under a statute governing crimes against the state.
"He was arrested so Cuba could use him as a pawn. That's how I feel," Alan's wife, Judy, told FoxNews.com. "Raul [Castro] was even quoted as saying that he knew Alan was not a spy.
"They are holding on to him to get what they want."
Cuban officials reportedly have said they would be willing to work out a solution involving three intelligence agents serving long prison terms in the United States on spy-related charges.
Washington has said the cases are not comparable.
Gross started a hunger strike in April to protest his confinement and to add pressure in both Washington and Havana to resolve his case. He ended it after nine days at the request of his mother, Evelyn Gross, who died June 18 in Texas.
Gross' health has also deteriorated according to his wife. She said he has lost more than 100 pounds, is losing vision in his right eye, "both of his hips are failing" and his morale is at an all-time low.
"He's giving up," she said, referring to seeing him during a visit two weeks ago. "It was a tough trip this time. He's just really distraught. He made the suggestion to us that it was likely the last time we would see him and that he doesn't want any other visitors."
Scott Gilbert, the Gross' U.S. lawyer, reiterated how dire the situation was in a statement released Monday.
"Alan has withdrawn, and he told me that his life in prison is not a life worth living," he said. "He's confined to a small cell for 24 hours a day. He's lost most of the vision in his right eye. His hips are failing and he can barely walk. He has stopped all attempts to exercise. Alan's emotional deterioration has been severe, and his mother's lingering and painful death has only accelerated this."
Judy Gross said the rabbis' letter gives her family a sense of public support and she hoped more action would be taken by Washington.
"We will always keep pressure," she added.