US military plane crashes on the rise as aging fleet continues breaking down
WASHINGTON – The U.S. Coast Guard continues to search for Army soldiers who went missing after their Army Black Hawk helicopter crashed in the waters off Hawaii Tuesday night.
It was the latest in a series of high-profile accidents involving military aircrafts – raising questions about their safety. Experts say the recent crashes underscore the pressing need to update the military's aging aircraft fleet, which is increasingly putting members of the military at risk.
Rep. Mac Thornberry, R-Texas, said he's concerned about U.S. military's readiness to fight.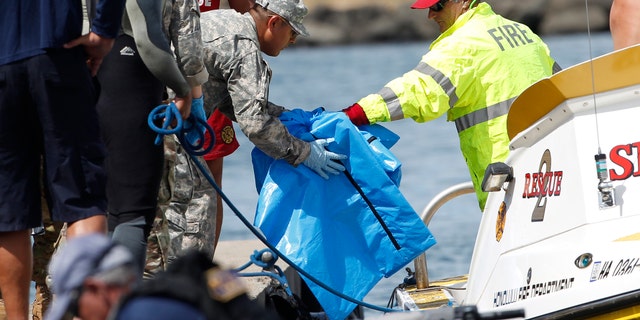 "We've got a lot of ground to make up for the good of the nation and for the good of the men and women who are risking their lives by flying," he told Fox News recently.
Last week, the U.S. Marine Corps grounded its entire fleet of aircrafts – some 850 jets, helicopters and Ospreys – for a day following two deadly crashes in the Mississippi Delta and off the coast of Australia in the past few weeks that killed 18 Marines and a sailor.
US NAVY PILOT EJECTS IN CRASH LANDING IN BAHRAIN, OFFICIALS SAY
A Fox News analysis found in the past year there have been 14 non-combat aviation crashes involving U.S. military aircrafts, a 40 percent spike from this point a year ago. There have been at least 112 Americans killed in military aviation crashes since January 2012.
Just last month, for the first time in the three-year-old war against ISIS, a U.S. Navy fighter squadron was grounded for a week aboard USS George H.W. Bush from July 12 to 19.
As U.S.-backed Syrian forces were battling ISIS in Syria, the U.S. Navy was forced to ground all 10 F/A-18 fighter jets in VFA-37, after two pilots flying the older model F-18C Hornets fell ill with decompression sickness, a long-standing problem with the jet's cabin pressure.
NAVY, MARINE CORPS HORNET FIGHTER PILOTS RAISE ALARM OVER SAFETY ISSUES
The two pilots required treatment in a decompression-chamber-like machine.
The USS George H.W. Bush is the first aircraft carrier to deploy with a chamber aboard after a spike in what the Navy calls "physiological episodes," which many officials blame on flying old planes.
Every deployed aircraft carrier in the U.S. Navy now carries decompression chambers onboard.
A U.S. Navy spokesman confirmed the grounding to Fox News.
"Naval Aviation Leadership directed an operational pause for Strike Fighter Squadron (VFA-37) at the conclusion of the flight schedule July 12…the pause was lifted on 19 July," said Cmdr. Jeanette Groeneveld.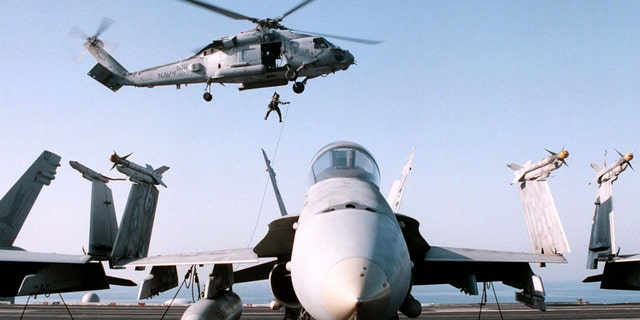 Groeneveld said there was "no operational impact" on the aircraft carrier's ability to support the ISIS fight in Syria, where the majority of strikes are now conducted. She noted that there were 34 other more advanced F-18 Super Hornets that remained operational among the three other strike fighter squadrons in the carrier's airwing.
The VFA-37 is one of four operational Navy squadrons continuing to fly older F-18 "C" model Hornets. The Navy has made it a priority to remove these older jets from deployed aircraft carriers to "build a more ready and capable forward-deployed force and allow cost savings," according to Groeneveld, that go along with fixing these legacy jets.
Because the F-18C is no longer produced anymore, there's a shortage of spare parts in the supply system, which exacerbates the challenge of keeping the jets airborne.
PILOT, 2 TRAINEES DEAD IN MILITARY PLANE CRASH IN DJIBOUTI
The Navy's Chief of Naval Operations, Adm. John M. Richardson, recently decided to accelerate the phase-out of the early model F-18s beginning this month with one squadron and ending in 2019, according to Navy officials.
USS George H.W. Bush is currently headed back to her homeport of Norfolk, Va. following a seven-month deployment. USS Nimitz, another aircraft carrier, is currently conducting airstrikes against ISIS from the Persian Gulf and keeping an eye on Iran.
The Marine Corps exclusively flies the older model F-18A-D Hornets, which have long suffered from a lack of spare parts grounding jets and robbing young pilots of valuable training. Currently, about 70 percent of Marine Corps F-18s can't fly and only about half the Navy's Hornets are fully mission capable right now, according to the services.
The former head of U.S. Marine Corps aviation, Lt. Gen. Jon M. "Dog" Davis, raised alarm bells about the problems in an exclusive interview with Fox News last year.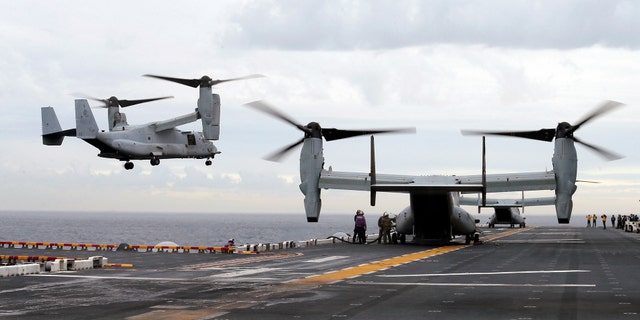 "What they need is more spare parts and a little more time to get those airplanes ready to go and do the flying and training they know they need to do as Marines," he said.
Davis has since retired.
Thornberry said aging aircrafts are flying much longer than their intended use.
"We're working these airplanes beyond their design life so that when they do have to go in for maintenance they stay there longer because there are more problems to fix," he said.
The military has argued that the problems facing aviation units were limited to trainers back home, not with deployed forces. But there is increasing evidence the problem has spread and is now affecting those deployed overseas.
Over the weekend an F/A-18 Super Hornet crash-landed in Bahrain after taking off from the USS Nimitz. The pilot ejected safely.
And then, just days after grounding its fleet, the U.S. Marine Corps announced more problems with its aircrafts.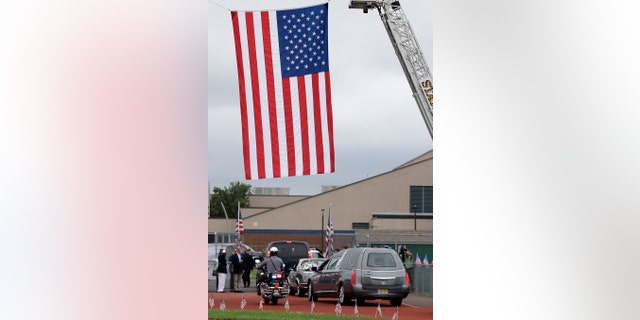 The Marines say a C-130J cargo plane experienced a loss of cabin pressure shortly after takeoff from Marine Corps Air Station Miramar in California, causing four Marines and a sailor to suffer from "decompression sickness."
The Marines and sailor did not require hospitalization, according to a statement.
The Pentagon says it has requested nearly $30 billion to fix the readiness issue.
Leonard Balducci contributed to this report.