US military carries out 'extraordinary' flight over Ukraine in response to Russia's 'unprovoked attack'
The U.S. military flew an "extraordinary" Open Skies Treaty flight over Ukraine on Thursday in response to Russia's "unprovoked attack" on allied Ukrainian forces late last month in the Black Sea near the Kerch Strait.
The maneuver is the first flight of its kind over Ukraine since 2014, when Russian forces annexed Crimea, according to Eric Pahon, a Pentagon spokesman.
"The timing of this flight is intended to reaffirm U.S. commitment to Ukraine and other partner nations," a Pentagon statement said. "Russia's unprovoked attack on Ukrainian naval vessels in the Black Sea near the Kerch Strait is a dangerous escalation in a pattern of increasingly provocative and threatening activity."
The Open Skies flight was requested by top Ukrainian defense officials, Pahon said, and it came after Pentagon officials announced their intentions to sail a warship into the Black Sea in the coming days to shore up support for Ukraine following the capture of 24 sailors and three of its vessels by Russia.
The Open Skies flight also took place one day after a U.S. Navy guided-missile destroyer sailed into waters claimed by Russia this week near the port city of Vladivostok, home to Russia's Pacific Fleet. It was the first such voyage for the U.S. Navy in Russia's contested waters since 1987, when George H.W. Bush was vice president and Russia and the U.S. agreed to an intermediate-range nuclear forces treaty -- a pact that's currently in jeopardy due to alleged Russian violations.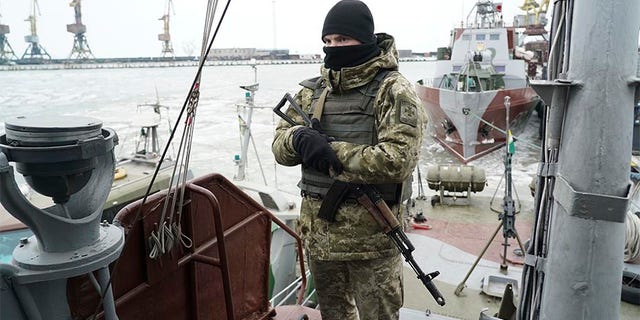 This week, Secretary of State Mike Pompeo visited NATO headquarters in Brussels to announce the Trump administration's plans to exit the treaty in 60 days if Russia does not come back into compliance. The deal prohibits the deployment of land-based cruise missiles with a range of 310-3,420 miles.
The Treaty on Open Skies was established in 1992 to allow unarmed aerial observation flights over the territories of its 34-signatories to gather information about military forces and activities. The signatories include the U.S. and Russia.
"Open Skies is one of the most wide-ranging international arms control efforts to date to promote openness and transparency in military forces and activities," the State Department has said.
A U.S. Air Force OC-135 reconnaissance plane flew over Ukraine on Thursday with 25 U.S. military personnel -- as well as Canadian, German, French, British, Romanian and Ukrainian officials -- on board, according to Pahon.
Among the American crewmembers, eight were Defense Threat Reduction Agency personnel. Seventeen crewmembers came from the 55th Wing from Offut Air Force Base in Nebraska.
The American reconnaissance plane departed Andrews Air Force Base on Nov. 30 for the mission, Pahon said.