US Marine shot in head while visiting family in Los Angeles dies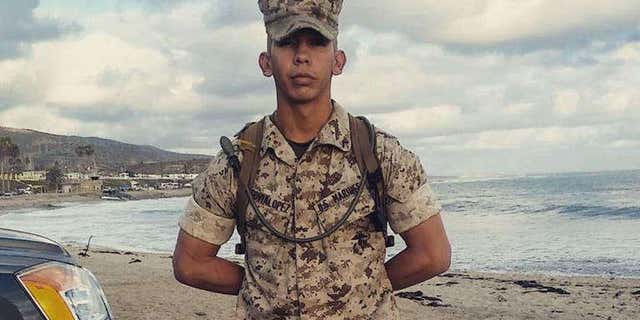 A 19-year-old U.S. Marine shot in the head while on weekend leave in Los Angeles has died.
City Coroner's spokesman John Cades said early Tuesday that Carlos Segovia Lopez died at a hospital Monday night. The young Marine was found Friday night slumped over in the driver's seat of his car in South Los Angeles.
LAPD Officer Norma Eisenman said a vehicle pulled up next to Segovia's car, and at least one person opened fire, striking him once in the head. No arrests have been made.
Claudia Perez, a family friend, told the Los Angeles times that Segovia was visiting family and friends while on leave from Camp Pendleton near San Diego. Segovia had spent time with his girlfriend and was on his way to Perez's home, where he usually stays while in Los Angeles, when he was struck by gunfire, she said.
"He texted my son that he was bringing pizza home. He never made it," Perez said.
Police notified the U.S. Marine Corps, which in turn notified Segovia's family about the shooting.
Segovia was not in uniform when he was shot. No suspects have been identified and investigators did not have a motive. Police said Segovia has no connections to gangs or other activity that would seem to make him a likely target of gun violence.
"At this point, it's absolutely a mystery," Whittingham said. "Like so many cases in South L.A., we have nothing to go on at this point."
Born in El Salvador, Segovia came to the U.S. with his mother. Both are U.S. citizens, Perez said.
He joined the Marines about six months ago after finishing high school.
According to the LA Times, Segovia was known around his community for his service work and led a teen group that aimed to motivate high school students to finish classes and graduate.
The Associated Press contributed to this report.