University of Virginia set to review campus culture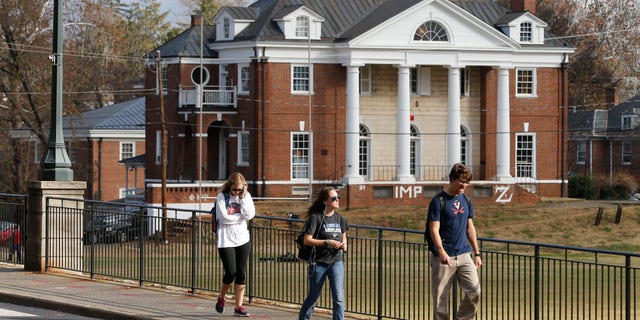 NEWYou can now listen to Fox News articles!
Already suspending Greek activities until January, the University of Virginia is set to review campus culture after a report of a gang rape surfaced last week.
The Board of Visitors, which sets the school's budget and policies, will hold an emergency meeting Tuesday to discuss the alleged misconduct, the Wall Street Journal reports. The school has also called for an independent investigation into its policies on sexual assault.
Fraternity members are also re-examining its party scene after the allegations of rape and the suspension handed down by University of Virginia president Teresa Sullivan.
The number of sexual assaults on campus has increased by 50 percent, the journal reports. The university is one of 88 schools that are being investigated by the U.S. Department of Education's Office of Civil Rights.
The topic of sexual assault has covered the campus as students performed protests along fraternity row at the university.
Members of the school's fraternity council acknowledged that sexual assault is a problem at the fraternities.
"We recognize that sexual violence is a problem in our fraternities and we recognize that we the students can be catalysts for the solution," Tommy Reid, president of UVA's Inter-Fraternity Council told the journal.
Faculty members have signed letters in petition to reorganize campus life focusing on fraternities because they are the hot spot for students who are too young to go to the bars.
"We don't want to stop the party; we want the party to be safe," Susan Fraiman, an English professor who organized a Saturday night protest, told the Journal.
On Friday, Attorney General Mark Herring said the university agreed to withdraw its appointment of former federal judge and prosecutor Mark Filip as independent counsel to investigate how the school responds to rape allegations. In college, Filip was a member of Phi Kappa Psi.
Sullivan had said the Rolling Stone article includes details that weren't disclosed to university officials previously.
"I write you in great sorrow, great rage, but most importantly, with great determination," Sullivan wrote. "Meaningful change is necessary, and we can lead that change for all universities. We can demand that incidents like those described in Rolling Stone never happen and that if they do, the responsible are held accountable to the law. This will require institutional change, cultural change, and legislative change, and it will not be easy. We are making those changes."
For more, visit the Wall Street Journal.