University of Kansas student kidnapped, beaten while on Tinder date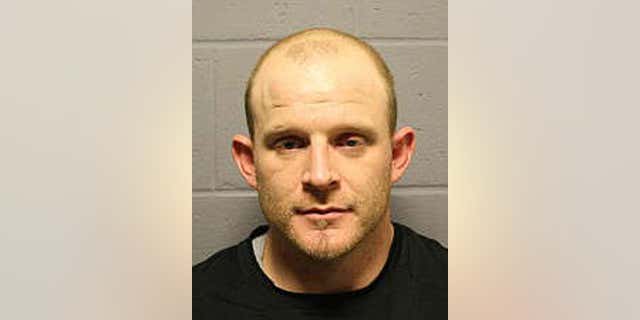 NEWYou can now listen to Fox News articles!
Authorities in Kansas said that a woman was kidnapped and beaten several days after a Tinder date turned violent last month.
Fox 4 Now reported Tuesday Shane Allen, 30, picked up the 20-year-old University of Kansas student at her sorority house on April 12.
Allen allegedly held the woman hostage for six days in his trailer. Court documents say that he abused her, bruising much of her body and breaking blood vessels in both her eyes.
The Lawrence Journal-World, citing an affidavit, reported Monday that the woman was working on a homework assignment at the man's trailer. Allen invited two friends over to smoke marijuana, while she worked on her assignment.
According to the affidavit, the friends later left the trailer. At some point during the night, the woman got up to get a glass of water and Allen followed her into the kitchen area and accused the woman of flirting with his friends. The woman denied the accusations, saying her cellphone wasn't working and Allen was with the three of them the entire time
The affidavit said that Allen continued to insist the woman flirted and that's when Allen punched her in the eye and continued to beat her. The woman asked Allen to take her home but refused until the swelling around her eyes went down.
The next day, Allen refused to take the woman home again and beat her some more. Over the course of the six days, Allen never left her alone in the trailer and drove her to several places, including a McDonald's and a relative's house.
The affidavit said that the woman repeatedly requested Allen to take her home, but he denied. The World-Journal reported that Allen forced the woman to message her friends on Facebook to tell them she was fine and would be home in a few days.
The woman returned to the sorority house on April 18 only after agreeing that she wouldn't contact police about Allen. According to the paper, the woman was immediately checked into a hospital and investigators noted that she had multiple bruises around her head and neck and had two black eyes.
According to Fox 4 Now, Allen is facing five felony charges and is being held in Douglas County Jail.
University of Kansas students told Fox 4 Now they were shaken up by the recent incident, mostly because a lot of students on campus use the dating app.
"(Tinder) is very popular, a lot of people use it, especially on campus because that's how you meet people and see what's going around," Allison Moore, a freshman at the university, told the station.
Moore said she's had several safe experiences using the app and even flew out to meet one of her suitors who lives in Texas.
Another student, Kike Lomoojo, said she wasn't sure about using Tinder.
"I would say I am shocked but I am honestly not. Just because Tinder is not a place where you know where the person is living or what they are into," Lomoojo said.
If Allen is convicted of his felony charges, he could face nearly 32 years in prison.
Click for more from The Lawrence Journal-World.