Unidentified body found in search for missing Los Angeles couple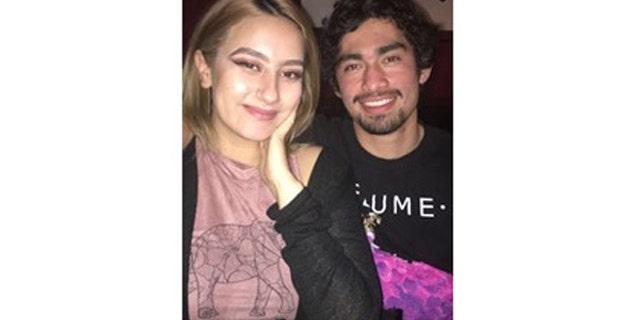 Authorities recovered a body and a vehicle off a steep embankment along California's Central Coast in their search Tuesday for a missing Los Angeles couple.
Authorities in San Luis Obispo County discovered one person's body and the remains of a dog about 15 feet from the vehicle off the side of Highway 1, according to the Los Angeles Times.
Investigators were working Wednesday to determine whether the apparent wreck involves Olivia Hannah Gonzalez, 20, and Brian Fernandez, 21, who were reported missing when they failed to return Christmas Day from a holiday road trip to Big Sur in a tan sedan.
The California Highway Patrol told the newspaper that dispatchers received a report about 3:30 p.m. Tuesday that a tan vehicle was found about 325 feet below the steep embankment of the highway near Ragged Point.
Gonzalez and Fernandez told family members they were leaving Dec. 23 for a weekend camping trip to the Big Sur and would return home on Christmas Day, according to the Los Angeles Police Department. No one has seen or heard from them since, and family members are concerned for their well-being, police said.
The two reportedly were seen with camping gear and Fernandez's two dogs, Scooby and Luno, before they left their North Hollywood home. It's not known whether the two ever made it to the Big Sur -- roughly 70 miles of coast and cliff line -- or traveled elsewhere. Poor weather in recent days hindered aerial searches for the couple.
Gonzalez is 5-foot-6, weighs 120 pounds, and has blonde hair and brown eyes. Fernandez is described as 5-foot-8 and 160 pounds. He has black hair and brown eyes. Authorities said Fernandez was driving a 2002 four-door tan Honda Civic with California license plate number 5VUD295.
Gonzalez's sister, Vanessa Guzman, told the Los Angeles Daily News that her husband got a text from Gonzalez at about 11:40 a.m. Dec. 23, saying the couple were about two hours away from the Big Sur on the state's Central Coast. That was reportedly the last message the family received from Gonzalez.
"I'm terrified that my sister's not going to come back home," Guzman told the paper.
Anyone with information regarding the couple's whereabouts is asked to contact detectives at 213-996-1800. Anonymous tips can be made by calling the LA Regional Crime Stoppers at 1-800-222-TIPS (800-222-8477) or go directly to www.lacrimestoppers.org.
FoxNews.com's Cristina Corbin contributed to this report.