Uber rider claims driver assaulted him in New Orleans after commenting on how fast he was driving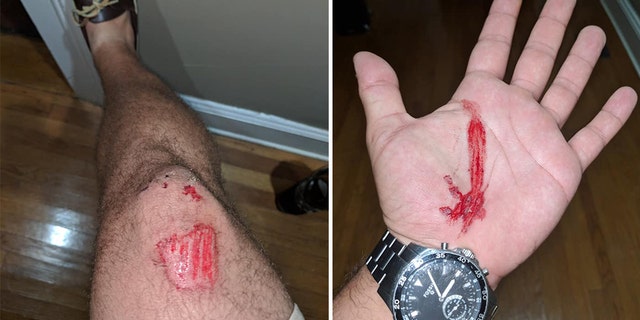 NEWYou can now listen to Fox News articles!
WARNING: ARTICLE CONTAINS GRAPHIC IMAGES
An Uber passenger claimed he was assaulted by his driver on Saturday after commenting on how fast he was going.
Joe Canizaro, of Boston, told Fox News on Monday he had been enjoying a fun trip to New Orleans with friends — but his weekend getaway took a turn when he decided to order an Uber Saturday night.
"My driver acted like he was qualifying for the Indy 500," Canizaro explained in a Facebook post. "So I commented on it as I got out of the vehicle."
Canizaro, a licensed EMT, claimed the driver then "decided to chase me down and cold cock me in the face, knocking me to the ground." Canizaro said he suffered "some abrasions and skin tears" and a "pretty good evulsion to [his] right elbow and ... right knee."
The Uber passenger added his hand is sore, and he thinks there's a possibility he may have a broken bone.
UBER RIDER CHARGED $250 FOR 7-MINUTE TRIP
"Immediately" after the alleged incident, Canizaro was locked out of the app and called 911. He told Fox News he used his emailed receipt to provide responding New Orleans police officers with information on his driver because he couldn't access Uber.
Uber told Fox News when situations like this allegedly arise, the company blocks both the driver and passenger's access to the app.
The company noted that, in accordance with their legal guidelines, "Any behavior involving violence, sexual misconduct, harassment, discrimination, or illegal activity while using Uber can result in the immediate loss of access to your account."
UBER WILL KNOW IF YOU'RE DRUNK BEFORE YOU EVEN GET IN THE CAR
Canizaro said there's "really irony in this whole situation," as his friend tried to push him to use competing ride-share app Lyft, because he felt it was "better." He told his friend he'd look into re-downloading Lyft on his phone because he'd "heard some complaints about Uber."
"That was the conversation I was having as my Uber driver pulled up to coincidentally less than 10 minutes later punch me in the face," he told Fox News.
The alleged incident is currently under investigation by Uber. The New Orleans Police Department did not immediately respond to Fox News' request for comment.