'U Suck' sign sparks apology from Washington State transportation officials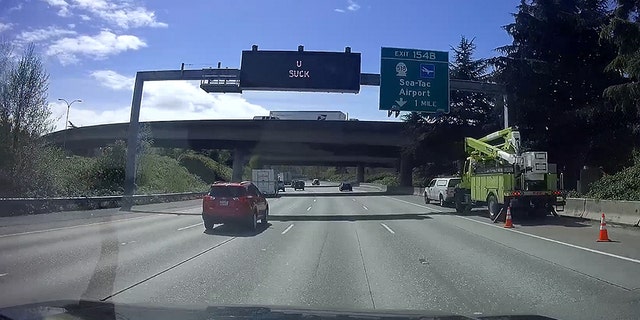 NEWYou can now listen to Fox News articles!
A sign reading "U SUCK" graced drivers' commutes along Interstate Highway 5 in Washington State on Tuesday.
A driver, Ruslan Kozlov, was traveling along I-5 about 1 mile before Exit 154B when he spotted the surprising message on an electronic billboard over the highway, Q13FOX reported.
A dash camera in his vehicle caught the sign and his posted an image, along with an enhanced version, to reddit.com.
The Washington State Department of Transportation acknowledged the image was in fact real and blamed it on a "training error."
"This was an inappropriate message and we apologize if anyone was offended," they said in a statement to Q13FOX. "This was due to a training error and clearly a mistake. We are taking steps to ensure this doesn't happen again."