Turkish Embassy brawl: Warrants issued for Turkish agents, Canadians
NEWYou can now listen to Fox News articles!
Police were on the hunt for 14 people, including nine Turkish security agents and three Turkish police officers, in the brawl that broke out in front of the Turkish Embassy in Washington, D.C., during President Recep Tayyip Erdogan's visit in May, officials announced Thursday.
Two Canadians are also sought in connection with the melee that left nine people injured, District Police Chief Peter Newsham announced. Two Turkish Americans -- Eyup Yildirim, of New Jersey, and Sinan Narin, of Virginia -- were arrested Wednesday.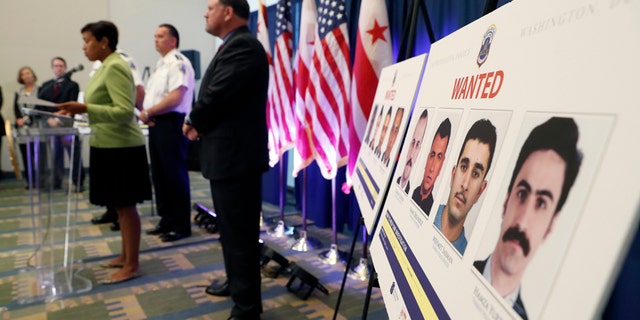 Yildirim was charged with assault with significant bodily injury, aggravated assault and a misdemeanor assault or threatened assault in a menacing manner. Narin was charged with aggravated assault and misdemeanor assault or threatened assault in a menacing manner
Newsham said there are still suspects involved in the May 16 incident that still have not been identified, adding that photos will be released later.
ERDOGAN'S BODYGUARDS ACCUSED OF ATTACKING PROTESTERS OUTSIDE TURKISH EMBASSY IN DC
The agents, part of Erdogan's security detail, are in Turkey at this time. It's unclear how the arrests for the officers and agents will be carried out, but D.C. police said they will be taking "necessary steps" to apprehend the individuals. Newsham added that the agents will be arrested if they attempt to enter the U.S.
"We all saw the violence that was perpetrated against the protesters," Newsham said. "We're not going to tolerate this."
Newsman said the warrants were issued by the D.C. police, not the state department.
Erdogan's visit sparked outrage after a video surfaced of Turkish president's security guards and supporters attacking a group of protesters outside the Turkish Embassy. Witnesses said the brawl started when the security detail started attacking people waving the flag of the Kurdish PDY party.
PHOTOJOURNALIST FREED FROM CUSTODY IN TURKEY
The agents were seen on video kicking and punching the protesters, some beating them to the ground. Many were visibly covered in blood. Nine people were hurt in the brawl.
Initially, two people were arrested the day of the incident.
American officials strongly criticized Turkey's government and Erdogan's security forces for the violence; the State Department summoned Turkey's U.S. ambassador to complain. The Turkish Foreign Ministry then summoned America's ambassador to address about the treatment of the detained security guards. Turkey's U.S. Embassy alleged the demonstrators were associated with the PKK, which has waged a three-decade-long insurgency against Turkey and is considered a terrorist group by the United States.
Sen. John McCain, R-Ariz., also said following the altercation that the U.S. should "throw their ambassador the hell out" of the country.
Fox News' Jake Gibson, Nicholas Kalman, Katherine Lam and The Associated Press contributed to this report.