Trump's transition team meets with main US Hispanic organizations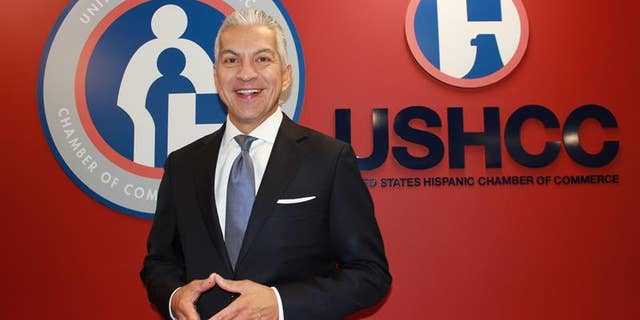 NEWYou can now listen to Fox News articles!
WASHINGTON – The transition team of President-elect Donald Trump earlier this week met behind closed doors in Washington with representatives of some of the country's most important Hispanic organizations, some of those present at the meeting told EFE speaking on condition of anonymity.
The meeting occurred on Tuesday morning at Hillsdale College's Kirby Center, located near the US Congress.
Among the organizations attending the meeting were the National Council of La Raza, the League of United Latin American Citizens and the US Hispanic Chamber of Commerce, some of the groups that during the presidential campaign expressed their support for Trump's Democratic rival, Hillary Clinton.
In a statement released Wednesday, the president of the Hispanic Chamber of Commerce, Javier Palomarez, said that it was an "honor" to have met with Trump's team and to participate with both conservative and progressive Latino leaders in the meeting.
"I walked away from this meeting optimistic that we have a team of willing partners eager to jumpstart our economy and get Americans back to work. I found the Trump Transition Team receptive and willing to engage in a productive discourse on a variety of issues," said Palomarez in the statement.
"We will continue to offer our advice and counsel to the incoming administration, with the concerns of our constituents and to promote business friendly policies that afford American small businesses with an environment for success," he added.
Palomarez, a firm supporter of immigration reform, announced last week that he had met with the president-elect's National Diversity Coalition with the intention of convincing Trump of the importance of immigrants to the United States.
Also attending Tuesday's meeting were conservative Latino groups such as The LIBRE Initiative, which promotes the free market, and the National Hispanic Christian Leadership Conference, the largest Latino religious organization in the country.
Also present were officials from the National Association of Latino Elected and Appointed Officials.
Trump has not - yet - named a Latino to his Cabinet, although he has not yet nominated his agriculture secretary and California ex-Lt. Governor Abel Maldonado has been mentioned as one of the possibilities for that post.