Trump says he's 'in no rush' after NKorea talks postponed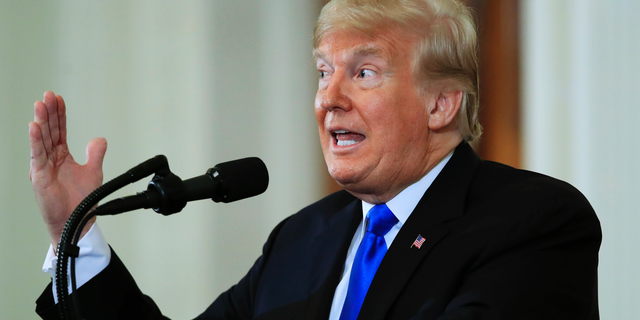 WASHINGTON – President Donald Trump said Wednesday the U.S. is "in no rush" after talks between his top diplomat and a senior North Korean envoy were postponed, throwing stalled diplomacy over the North's nuclear weapons into further uncertainty.
Trump said the meeting, which had been due to take place on Thursday in New York, would be rescheduled, and that he still expected to hold a second summit with North Korean leader Kim Jong Un early next year.
Neither side has properly explained why the planned talks between Secretary of State Mike Pompeo and Kim Yong Chol, a key aide of the North Korean leader, were postponed. State Department spokesman Robert Palladino described it as "purely a matter of scheduling" but refused to elaborate. The department said the meeting would take place at an unspecified later date, "when our respective schedules permit." North Korea's propaganda services have not mentioned the meeting.
There's been little diplomatic progress in the five months since the June summit in Singapore where the U.S. and North Korean leaders committed to "denuclearization" of the divided Korean Peninsula. Signs are growing of an impasse over how to achieve that goal. News of the postponement came after North Korea's Foreign Ministry criticized the U.S. on Friday for its continued support of sanctions and hinted it may resume nuclear development.
During a press conference on Wednesday mostly focused on midterm U.S. elections, Trump contended that he had made more progress with North Korea than past administrations, and said that with sanctions still in place, he was not in a hurry to reach a deal with Pyongyang, which has halted nuclear and missile tests for the past year.
"I would love to take the sanctions off, but they have to be responsive too. It's a two-way street. But we're not in any rush at all. There's no rush whatsoever," Trump told reporters at the White House.
In Seoul, South Korean presidential spokesman Kim Eui-kyeom said his government doesn't believe U.S.-North Korea negotiations have completely broken down or "lost their momentum" because of the postponement. Seoul's Foreign Ministry also expressed hope that the U.S. and North Korea can quickly reschedule a high-level meeting.
South Korea's presidential Blue House said the United States had informed it of the talks' postponement in advance. But the Blue House would not reveal the reason for the postponement, referring questions to the State Department.
Tensions between the U.S. and North Korea that spiked last year when Trump and Kim were trading insults and dire threats have ebbed this year, but the North has not taken irreversible steps to give up the nukes it spent decades making and which it views as key to its security. The two sides are deadlocked over when sanctions should be eased, with the U.S. maintaining that it should only happen after denuclearization. The North wants concessions sooner.
____
Associated Press writer Hyung-jin Kim in Seoul, South Korea, contributed to this report.