Truckers line up under Michigan overpass to save suicidal man who threatened to jump
When a man threatened to jump off a highway overpass in the Motor City early Tuesday, it took a group effort involving 18-wheelers to save his life.
The man had threatened to jump off a bridge on Interstate 696 near the Coolidge exit around 1 a.m., when police were first called, according to FOX2 Detroit.
Michigan State Police helped organize semi-trucks underneath the overpass as the man hung over the side of a safe fence, first closing down the highway's eastbound lanes before shutting down the westbound side.
In total, there were 13 semi-trucks that ended up parked under the overpass stretching nearly the entire length of the overpass in photos captured by a FOX2 Detroit photographer. The trucks would have been able to shorten the distance the man would had fallen, had he jumped.
"This photo does show the work troopers and local officers do to serve the public," Michigan State Police said in a Twitter post. "But also in that photo is a man struggling with the decision to take his own life. Please remember help is available through the National Suicide Prevention Lifeline at 1-800-273-8255."
MEN PULL WOMAN FROM VEHICLE SINKING IN MONTANA FLOOD WATERS
The man did not jump, and the situation came to an end with him walking off the bridge after negotiators spoke with him for several hours. He was later taken to a nearby hospital for evaluation and the highway reopened around three hours later, according to FOX2 Detroit.
Michigan State Police Lt. Mike Saw told FOX2 they've been using the tactic for over two decades.
"We have been doing this for as long as I have been in the department, which is 1995. We have kept it quiet for that long but social media and cell phones kind of changes that," Shaw said.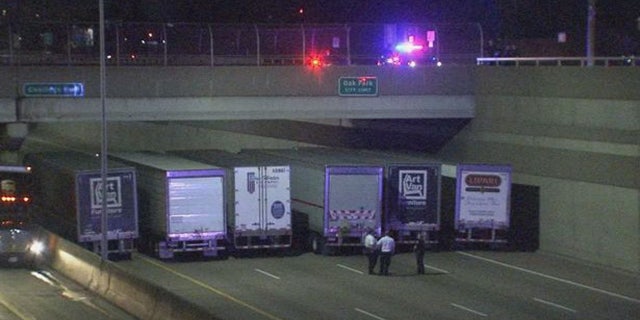 A trucker who claimed to be part of the "wall" wrote in the "Twisted Truckers" Facebook page the whole incident took place between 1 and 3 a.m.
"The cops came up and waved 6 or 7 of us through and then stopped us under the bridge," Chris Harrison wrote. "Same thing on the west bound side....I just happened to be one of the guys in the front of the line."
DEAF, PARTIALLY BLIND DOG HELPS RESCUE LOST GIRL, 3, IN BUSHLAND OF AUSTRALIA
Harrison, who posted photos of the incident," said after the man walked off the bridge, highway patrolmen came to each truck, shook their hands, and thanked them for helping.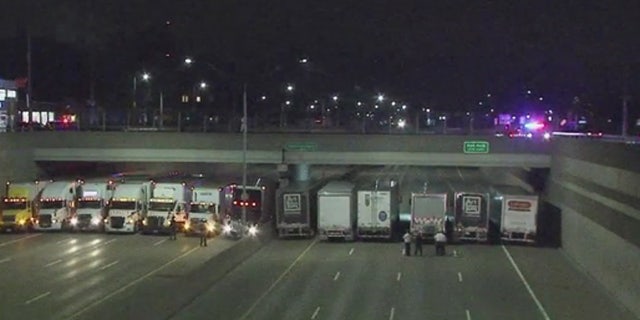 Shaw told FOX 2 there's never been an issue getting the truck drivers with tight schedules to step up and help.
"They want to help out, too," he said. "Nobody wants to see somebody take their own life and if it takes parking your truck underneath an overpass for a couple of hours to make sure somebody's is safe, they're more than willing to do something like that.
Michigan State Police added that those struggling with thoughts of suicide can also call "a loved one, member of the clergy or 911."
"There are so many other options than climbing up on that overpass," Shaw said.