Travelers can expect more fees from airlines, report says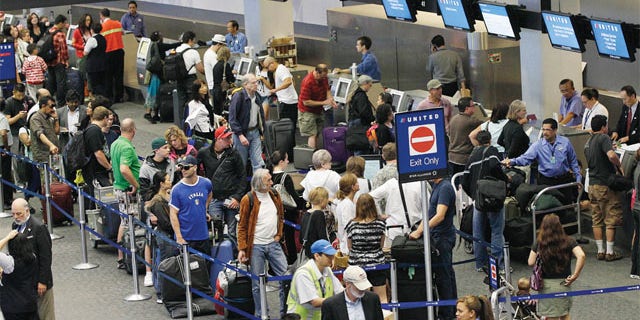 WASHINGTON – Airline passengers can expect fewer carriers to choose from, fewer flights to smaller cities and more baggage and other fees as the industry continues to grapple with high fuel prices and a weak economy, according to a government report released Tuesday.
The airline industry is still in transition after a tumultuous decade in which bankruptcies and mergers cut the number of airlines accounting for the bulk of domestic flights in half, to just five: American, Delta, Southwest, United and US Airways, the report by the Department of Transportation's inspector general said. If US Airways and American -- which are in merger discussions -- were to combine, that would drop to four.
There are dozens of other airlines in the U.S., but collectively those smaller carriers account for less than 15 percent of total passenger traffic. Twelve years ago, there were ten major U.S. airlines accounting for 90 percent of domestic flights. But high fuel prices, the 2008 recession and a slow economic recovery have taken a toll, the report said.
In 2000, fuel costs were just 10 percent of airline operating expenses. Fuel costs peaked at 40 percent of expenses in 2008, outdistancing payroll as the airlines' biggest expense. Last year, fuel accounted for 35 percent of expenses.
Less competition has enabled airlines to try to offset higher costs by eliminating less profitable flights to smaller cities, the report said. Airlines cut the number of scheduled domestic flights by 14 percent between June 2007 and June 2012, the report said. As a result, flights have fewer empty seats and airlines have been able to increase fares, especially on short-haul flights.
Last year, the industry attempted 22 fare increases, of which 11 were successful, the report said. Airfare increases are considered successful if competitors also adopt an increase. If there's not widespread matching by other airlines, the result is usually a withdrawal of the original increase. So far this year airlines have attempted eight fare increases, four of which have been successful, the report said.
Since 2008, airlines have also supplemented their fares by charging a wide range of fees for services that in most cases used to be free. Baggage fees alone contributed $2.7 billion in added revenue to airlines last year. Besides fees for checked bags, at least two airlines -- Allegiant and Spirit -- now charge passengers for carry-on bags.
As a result of these trends, the industry in general has become profitable again after years of red ink. And having fewer flights has resulted in a drop in flight delays and cancellations.
"The good news is that the (carrier) consolidation and ancillary fee revenue stream have stabilized the airline industry," said Kevin Mitchell, chairman of the Business Travel Coalition, which represents corporate travel managers. "The bad news is airlines can disregard consumers' interests much more easily when there are fewer carriers."
John Heimlich, vice president and chief economist for Airlines for America, a trade association representing major airlines, said one reason airlines have cut back on flights is that more passengers traveling less than 700 miles are choosing other forms of transportation such as cut-rate intercity buses and Amtrak's higher-speed Acela trains in the Northeast. He said some people would also rather drive than hassle with security checks in the post-9/11 world.
"Airlines have been more cautious about a glut of seats in the marketplace relative to the demand, and such caution has helped the industry get back on more solid financial footing," Heimlich said.