Tornado, hail threats move east after severe storms reportedly turn deadly
Several states from the Midwest to the Gulf Coast and east to Virginia prepared for another day of dangerous weather Wednesday after a series of storms brought huge hail and high winds, reportedly killing one person and injuring four others in Texas.
The National Weather Service Storm Prediction Center said 60 million people should watch out for strong storms. The nastiest weather was predicted for an area from Houston north into part of Iowa.
"This type of environment will support supercells capable of all hazards, although large hail appears to be the primary severe threat," forecasters said.
Powerful winds toppled trees in Harris County, Texas, northwest of Houston, killing a woman there, KHOU reported. Rescuers were said to be pulling other people in the area out of their homes to safety.
In northern Texas, four people were hospitalized after vehicles they were in were caught up in a tornado that hit Tuesday around 10 p.m., Howe Police Chief Carl Hudman said.
Hail as big as grapefruit fell in northern Kansas on Tuesday, while winds approaching hurricane force — 74 mph — raked communities from Nebraska and Missouri to Texas. Uprooted trees, downed power lines and roof damage were reported in parts of Texas and Oklahoma.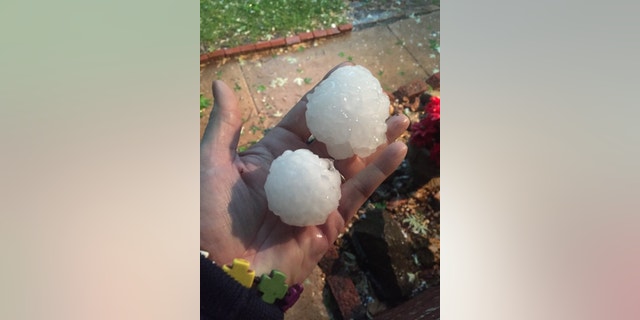 Forecasters said last week that the nation could have seen significant tornadoes Tuesday, but conditions weren't right for the biggest storms.
Still, the hail and high winds were frightening enough.
Hail 4 inches in diameter fell northwest of Marysville, Kansas, and residents of Topeka, Kansas, eyed the sky nervously during rush hour after forecasters warned that a supercell thunderstorm could produce a tornado at any moment.
A rope tornado brushed fields south of Wichita, Kansas, and another small twister touched down in southwestern Indiana. A storm that cleared Oklahoma City around sunset may have dropped a tornado or two during a 90-mile march to Tulsa. Power was knocked out to thousands.
Beginning last Thursday, forecasters said a severe weather outbreak was possible Tuesday and that unsettled weather could bring storms much of the rest of the week. That forecast has held.
The core of the bad weather worries shifts back to Oklahoma and Texas on Thursday and Friday, then Arkansas, Louisiana and Texas on Saturday.
Ahead of Tuesday's storms, as a precaution, some Oklahoma school districts either shuttered schools for the day or sent students home early, hoping they would remain safe.
In Fairview, George Eischen, 51, spent the morning moving Chevies into his shop and showroom to protect them from hail — "the real enemy of the car dealer."
Workers at the Spirit of St. Louis Airport in Chesterfield, Missouri, did something similar with airplanes when the skies turned a "mean green" ahead of a line of storms.
"We were able to get most of the airplanes into hangars," aviation director John Bales said.
The Associated Press contributed to this report.