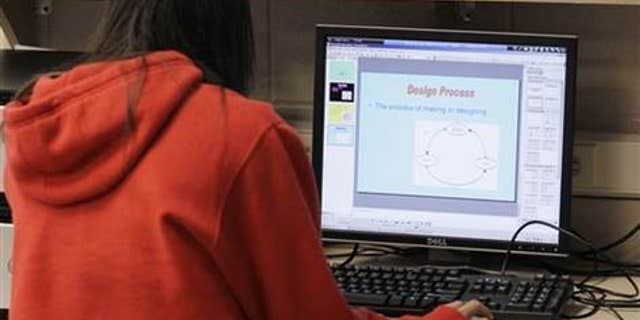 NEWYou can now listen to Fox News articles!
A little extra help from the right tutor can go a long way toward improving a kid's complete academic experience, whether it means helping him get on top of a class he's struggling with, helping him learn to grasp a subject from a new perspective, or assisting him in gaining confidence and accountability.
Consider what one of the most respected tutors in the most academically competitive school districts in the country did when her son needed help managing the influx of seventh-grade schoolwork.
She hired a tutor. Hired. But why?
For one thing, she was met with the all-too-familiar eye rolls and mass resistance, even though she arguably is one of the best people to help her child.
"Even though I do this for a living, it's completely different when it's your own child," said Ann Dolin, founder of Educational Connections Tutoring (ectutoring.com) in Fairfax, Virginia. "He didn't receive any of my suggestions or strategies well because they were coming from me. It was creating conflict between us."
Which doesn't bode well for the rest of us nontutor parents who are trying to help our kids get through tough spots in school.
But take heart from Dolin's example. Once she brought in someone from outside the family to help, the improvement was "like night and day," she said. Her son's tutor helped make managerial tasks part of his homework routine, and worked with him on study methods in a way he enjoyed and was willing to try.
While Dolin still checked in with her son about homework on a weekly basis, stepping back from the daily monitoring helped him take ownership of his work and alleviated the stress of the parent-child dynamic.
At times, parents can wait too long before calling in help. Kathy Essig, an executive functioning coach based in McLean, Virginia, laments that, all too often, once kids start slipping academically, they tend to believe they're incapable of grasping the subject matter instead of recognizing that their learning style doesn't match the pace or the teaching style of the class.
The latter is what prompted middle-school student Lena Smith to find a tutor when she skipped over two math classes and started taking algebra in seventh grade.
Smith said that while she easily gained an understanding of the subject matter, she found that her classroom teacher often fell short when it came to addressing new concepts or advanced applications.
With the help of her parents, Smith found a tutor whose teaching style and dedication to helping her understand the material matched her own.
"My tutor helps explain the hard examples that we don't have time to go over in a classroom of 24 kids," said Smith, who largely credits her tutor for helping her sail through Algebra I.
Now in eighth grade, Smith is taking a high-school level geometry class, but she still meets with her tutor once a week.
"If the student doesn't understand the way the teacher is teaching, more help from that same teacher doesn't help," Dolin said. "But if she can get help from someone who can explain it in a totally different way, a light bulb can go off."
A Good Tutor Means a Happier Kid
In addition to helping create a happier home, a good tutor can reveal a happier kid. Essig underscores the importance of bolstering kids' executive functioning — or organizational learning — needs. It's the stumbling along the work-management trajectory, she said, that often leads to kids being mislabeled as "lazy" or "uncaring," and ruining their confidence.
"I hate the word 'lazy,'" Essig said. "It's not that kids who struggle with executive functioning aren't smart enough or trying hard enough. It's that their brains can't process the information fast enough."
The need for support is often greatest right around middle school, Essig said.
"That's when all schools tend to ramp up their curriculum to be more rigorous," she said. "Some students don't have the resolve to know how to put it all together, and it looks like they're falling apart academically when they're really falling apart organizationally."
Essig said the brain's frontal lobe, where all of our organizational decision-making takes place, doesn't necessarily ramp up as quickly as kids' schoolwork.
One of the best ways to help your child master executive functioning, she advised, is to teach him how to use a month-at-a-glance calendar starting in middle school.
"It will make him feel like he's in charge of his world, help develop independence, and give him some ownership of his schedule," she said.
Essig suggests color-coding homework assignments (both long- and short-term), doctor's appointments, sporting activities and extracurricular events to help them break down their different responsibilities.
But Essig said this motivation has to come from the kid, not just the parents.
"I don't take children in my practice unless I know that they want to be there," she said. "Tutoring is not for the kids who are getting an A-minus, but their parents want them to get As. (It's for) the kid who's feeling frustrated that they're not meeting their potential. That's the kid who benefits most from tutoring."
More from Lifezette.com:
Infertile? Check with Mom: Her biological clock could provide clues to your fertility
Kids Hooked on Hookah: Flavored smoking hides the dangers of nicotine
Unexpected Blessings: One family's profound journey