Three men see snout, free Alaskan moose buried in avalanche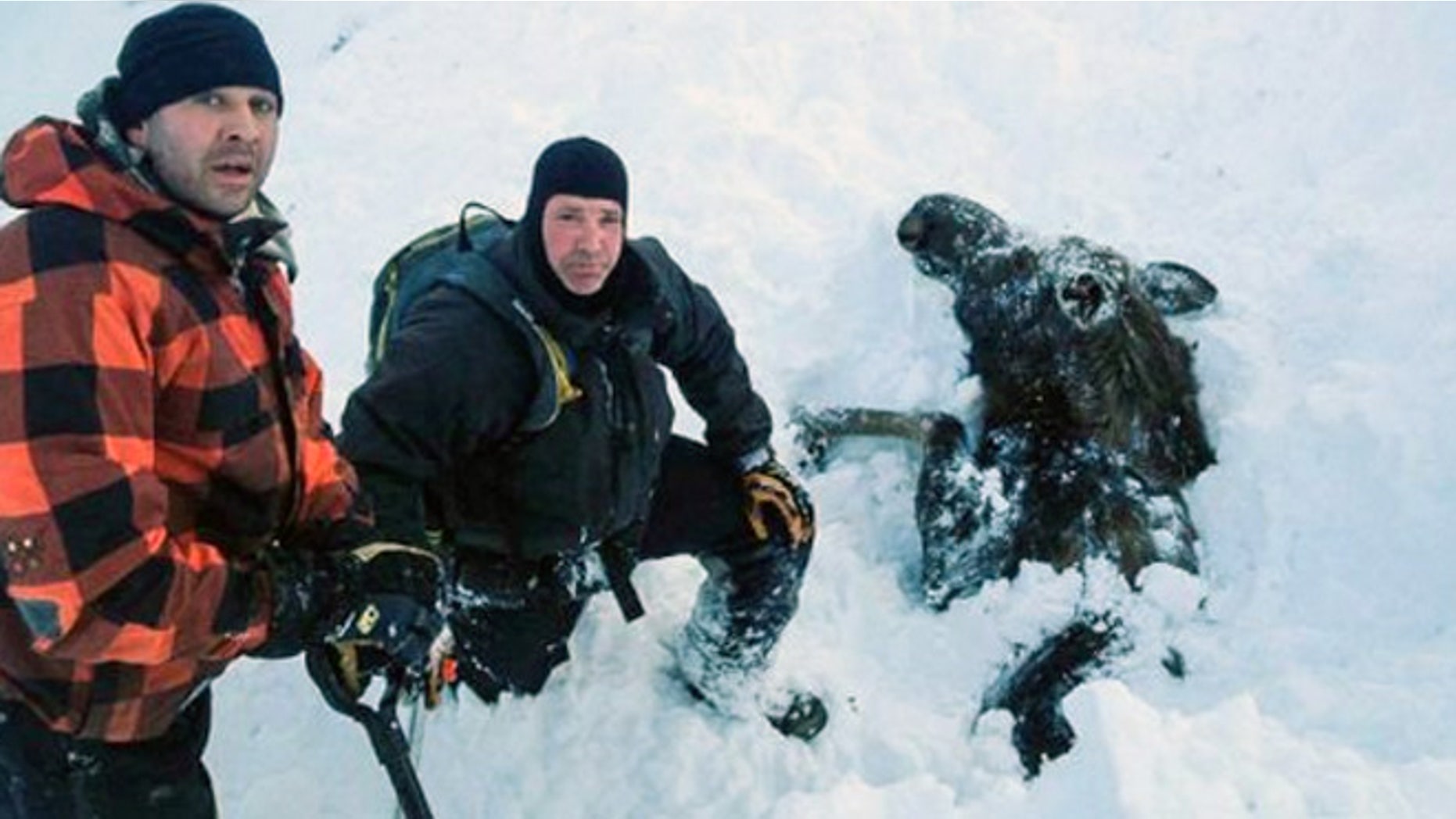 There's an extra moose alive in southcentral Alaska thanks to three snowmobilers who freed it from an avalanche.
Marty Mobley, Rob Uphus and Avery Vucinich, residents of the Matanuska-Susitna Borough, on Sunday went riding on the west side of Hatcher Pass about 55 miles northeast of Anchorage, Alaska Dispatch News reported. With Alaska's unseasonably warm weather, they were wary of avalanches, Mobley said.
They came upon a hillside that had both moose tracks and ski tracks. The latter stood out because they don't see many skiers in the area.
About an hour later, they returned and saw that an avalanche had come down, wiping out the tracks. The three friends were concerned that a skier might have been trapped but also knew more snow might fall.
"We had about 2,500 feet of mountain above us still," Mobley said. "Half slid, half didn't, so we didn't want to screw around a bunch there."
Mobley spotted something brown moving in the hard-packed snow of the debris field.
"It looked like a guy's arm at first because we were expecting to see a skier," Mobley said. "But it was moaning and groaning and moving and we realized it was a moose, even though only his ears and some of its snout was sticking out of the snow."
The men grabbed shovels. Two men dug while the other looked for signs of another avalanche. When the animal's head was cleared, Vucinich took a picture. The moose didn't struggle and appeared calmer as they cleared snow.
Uphus told FoxNews.com that the men discussed safety concerns. He estimated that the animal weighed about 1,000 pounds and there was a possibility that the animal could have acted erratically when freed.
"We couldn't turn our back on it," he said. "Call it karma, call it whatever, it was in trouble and we had the chance to help it."
After about 10 minutes, Mobley said, three-quarters of the animal was free. The men were not sure if the moose was injured. One poked the moose's rump with a shovel.
"It stood right up and towered over us, because we were in kind of a hole from the digging," Mobley said. "It looked like the abominable snowman because its fur was so packed with snow and it looked at us, shook the snow off it, and off it went."
The moose was "at full steam" when it ran down the mountain. It appeared to be uninjured, which was a surprise.
"It's just something we had to do," Uphus said.
Fox News' Edmund DeMarche and The Associated Press contributed to this report