The Latest: Some Hawaii residents leave as Kilauea spews ash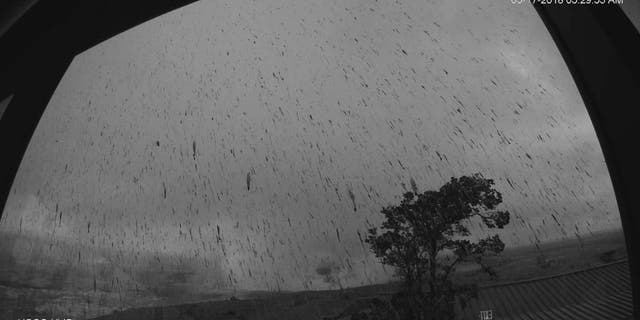 PAHOA, Hawaii – The Latest on the summit eruption of Kilauea volcano on Hawaii's Big Island (all times local):
8:30 a.m.
The summit explosion of Hawaii's Kilauea volcano created booming sounds in the nearby town of Pahoa and resident Toby Hazel says she's had enough and is preparing to leave town.
Hazel said Thursday that it was "time to go" after the volcano sent an ash plume high into the sky following two weeks of lava eruptions from fissures that emerged on the flanks of the volcano.
In Hilo 30 miles (48 kilometers) from the volcano, Pua'ena Ahn says he has experienced labored breathing, itchy, watery eyes and some skin irritation as ash plumes intensified in recent days.
Hawaii County officials say the volcano's summit exploded at 4:17 a.m.
Some schools are closed following the explosion but there have been no additional evacuations.
About 2,000 people living near the fissures spitting lava had already been evacuated.
___
7:30 a.m.
Some residents of Hawaii's Big Island say they didn't hear or feel the pre-dawn summit eruption of Hawaii's Kilauea volcano that sent a plume of ash 30,000 feet (9,140 meters) into the sky.
Epic Lava tour operator John Tarson is an early-riser who was awake and says he only knew about it because an alert came in on his phone.
Aloha Junction Bed and Breakfast owner Robert Hughes says there were a few small earthquakes Wednesday but he heard nothing Thursday when the volcano erupted. He described Thursday so far as a "nice rainy day."
Hawaii County Civil Defense spokeswoman Kanani Aton said she spoke to several close family and friends who live in the nearby community of Volcano and that all slept through the eruption
Hawaii County officials say the volcano on the Big Island exploded at 4:17 a.m.
___
6:17 a.m.
Residents who live in a nearby town are reporting light amounts of ash after a summit eruption of Hawaii's Kilauea volcano.
Hawaii County officials say the volcano on the Big Island exploded at 4:17 a.m.
U.S. Geological Survey geophysicist Mike Poland says the explosion likely only lasted a few minutes.
Poland says ash accumulations are minimal and that trace amounts were expected near the volcano and on a nearby town, named Volcano.
About two hours later, Poland said the webcam view showed a dusty plume rising from the summit. It looked like it was a steam and ash plume.
___
6:10 a.m.
Hawaii's Kilauea volcano has erupted from its summit, shooting a dusty plume of ash about 30,000 feet into the sky.
Mike Poland, a geophysicist with the U.S. Geological Survey, confirmed the explosion on Thursday. It comes after more than a dozen fissures recently opened miles to the east of the crater and spewed lava into neighborhoods.
Those areas were evacuated as lava destroyed at least 26 homes and 10 other structures.
The crater sits within Hawaii Volcanoes National Park, which has been closed since May 11.
Officials have said they didn't expect the explosion to be deadly as long as people remained out of park.
Kilauea is one of the world's most active volcanoes. An eruption in 1924 killed one person and sent rocks, ash and dust into the air for 17 days.
___
This version corrects that the explosion happened at about 4:17 a.m., not 6 a.m.