The Latest: Services set for slain editor, sales assistant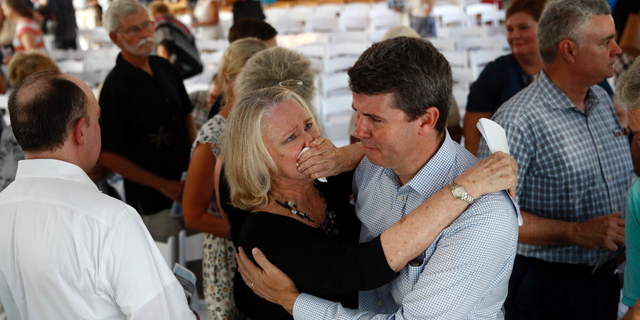 BALTIMORE – The Latest on a shooting at a Maryland newspaper that killed five people (all times local):
4:15 p.m.
Memorial services have been announced for two staffers killed in a shooting at a Maryland newspaper's offices.
The service for Gerald Fischman will be held Sunday at Judean Memorial Gardens in Olney. Fischman was The Capital's editorial page editor.
Family and friends of Rebecca Smith will also gather Sunday for her service. There will be visitation in the afternoon and evening at Duda-Ruck Funeral Home in Dundalk, followed by the memorial service. Smith was a sales assistant at the paper.
They and three other colleagues were killed June 28 at the combined offices of the Capital Gazette. Police have charged a man with a long-running grudge against the paper in the attack.
___
1:55 p.m.
A memorial service will be held next week for Capital Gazette sports reporter John McNamara, one of five newspaper employees killed during an attack at its Annapolis office.
The Baltimore Sun reports McNamara's service will be next Tuesday morning at the Memorial Chapel at the University of Maryland, College Park. He's a 1983 alumnus of the school.
On Monday, an overflow crowd gathered at a Maryland nature center for a "celebration of life" in memory of assistant editor and columnist Rob Hiaasen. A memorial service for community reporter and editor Wendi Winters is scheduled for Saturday at the Maryland Hall for Creative Arts in Annapolis, followed by a reception at the Unitarian Universalist Church of Annapolis.
Two other colleagues, Gerald Fischman and Rebecca Smith, were killed in the June 28 attack.
Jarrod Ramos was arrested after the shootings and faces five counts of first-degree murder.
___
1:25 p.m.
A Maryland legal expert describes the letters officials say Jarrod Ramos sent on the day of the deadly attack as "very powerful" evidence of intent that the state will make full use of at trial.
Police say he sent three letters on the day of the attack, including at least one that said he was on his way to the Capital Gazette newsroom with the aim "of killing every person present."
Douglas Colbert is a University of Maryland law professor. He says that as long as it's established that Ramos authored the letters they will be used to show his "planning and deliberate actions" on the day of the attack.
Colbert says the apparent admissions by the defendant will weaken a defense lawyer's strategy of suggesting that he was "suffering from a mental disease or defect" that would impair his ability to understand the consequences of his actions.
___
12:30 p.m.
U.S. flags in Annapolis, Maryland, and elsewhere are at half-staff to honor the five employees of the Capital-Gazette newspaper who were shot to death last week.
Annapolis Mayor Gavin Buckley thanked President Donald Trump on Tuesday for ordering U.S. flags on federal property to be flown at half-staff.
Buckley expressed frustration Monday after he said he was told by Maryland Rep. John Sarbanes' office that the request had not been granted.
Buckley says White House Press Secretary Sarah Huckabee Sanders called him just after 11 p.m. Monday to ask if he personally was making the request. He says she called him at 7:16 a.m. Tuesday to say the request had been granted.
Buckley says he considered lowering the flags on his own, but decided to follow protocol. He says once lines of communication opened "we got the result that I'm sure everyone would want."
___
11:15 a.m.
A letter a man charged with killing five people at a Maryland newspaper sent the day of the shootings seeks to justify vengeance as an alternative to relief in the courts after losing his defamation lawsuit against Capital Gazette Communications.
Jarrod Ramos is charged with murder in the attack Thursday in Annapolis.
In the letter sent to the newspaper's lawyer, Ramos wrote: "If this is how the Maryland Judiciary operates, the law now means nothing." He quoted a description of the purpose of a defamation suit, saying it was intended for a defamed person to "resort to the courts for relief instead of wreaking his own vengeance." It also says, "'That' is how your judiciary operates, you were too cowardly to confront those lies, and this is your receipt."
Ramos signed the letter under the statement: "I told you so," and then wrote that he was on the way to the newspaper "with the objective of killing every person present."
___
11:04 p.m.
An overflow crowd gathered at a Maryland nature center to remember Rob Hiaasen who was shot to death along with four colleagues at the Capital Gazette newspaper by a gunman in the newsroom.
Attendees at the "celebration of life" on Monday said they would remember Hiaasen for how he lived, rather than the way he died senselessly at the hands of a gunman. They sought solace with laughter and funny memories, but sobs occasionally punctuated the ceremony.
Hiaasen had just celebrated his 33rd wedding anniversary with his wife, Maria, whose birthday was on the day of the newsroom attack. His widow said Rob was her best friend and a loving, generous partner. "I'm going to try and hold him here," she said, clasping her hands to her heart.