The Latest: Coroner says inmates slashed, stabbed, beaten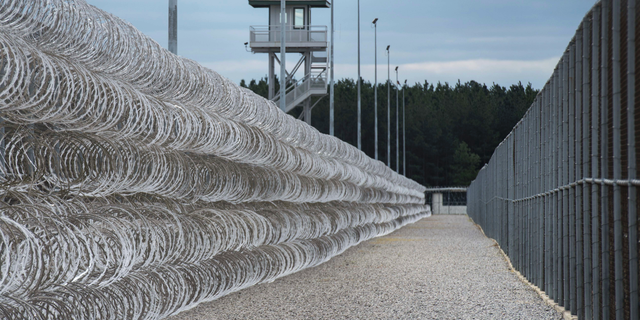 NEWYou can now listen to Fox News articles!
COLUMBIA, S.C. – The Latest on prison riots that killed seven inmates in South Carolina (all times local):
8:45 a.m.
A coroner says it appears many of the seven inmates who were killed during hours of rioting at a maximum security South Carolina prison died of stabbing and slashing wounds.
Lee County Coroner Larry Logan told The Associated Press that he arrived to a chaotic scene of fights everywhere at Lee Correctional Institution.
Logan says it appears most of the seven were killed by stabbing or slashing. He says others may have been beaten, but autopsies will be needed to confirm what caused their deaths.
Logan said he just finished identifying all the dead Monday and is working to notify relatives. Names have not been released.
Authorities say it took eight hours to quell the riots and secure the prison. No employees were hurt.
___
7:00 a.m.
A South Carolina prisons spokesman says seven inmates are dead and 17 others required outside medical attention after hours of fighting inside a maximum security prison.
Prisons spokesman Jeff Taillon announced the grim outcome after State Law Enforcement Division agents helped secure Lee Correctional Institution around 3 a.m. Monday.
Taillon said no officers were wounded after multiple inmate fights broke out at 7:15 p.m. Sunday.
Lee County Fire/Rescue said ambulances from at least seven jurisdictions lined up outside the prison to tend to the wounded. The local coroner's office also responded.
The maximum-security facility in Bishopville houses about 1,500 inmates, some of South Carolina's most violent and longest-serving offenders. Two officers were stabbed in a 2015 fight. One inmate killed another in February.