The Latest: California wildfire now largest in state history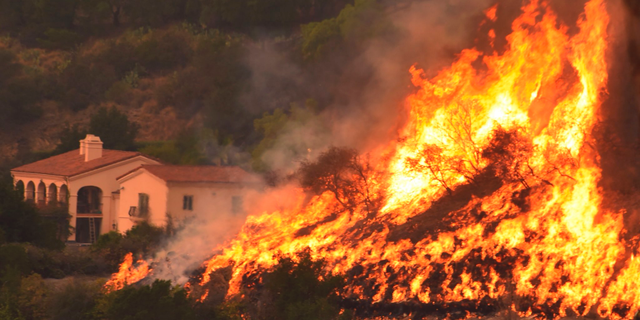 VENTURA, Calif. – The Latest on Southern California's big wildfire (all times local):
7:10 p.m.
The huge wildfire that burned hundreds of homes in Santa Barbara and Ventura counties is now the largest in California's recorded history.
State fire officials said Friday that the Thomas fire has scorched 273,400 acres, or about 427 square miles of coastal foothills and national forest.
That was 154 acres larger than the 2003 Cedar fire in San Diego that killed 15 people.
Thousands of firefighters and fleets of aircraft have been battling the blaze since Dec. 4. A firefighter and a woman fleeing the blaze died.
Days of unrelenting hot, gusty winds drive it through Ventura neighborhoods, incinerating entire blocks, and threatened the wealthy enclave of Montecito.
By Friday, however, humidity was higher, temperatures were cooler and the fire threat to homes in many areas eased. The fire continued to move slowly through forest but the blaze is 65 percent contained.
___
9:47 a.m.
The huge wildfire that burned hundreds of homes northwest of Los Angeles this month is within 500 acres (202 hectares) of becoming the largest on record in California.
Despite minimal activity, the so-called Thomas Fire increased in size to 272,800 acres (110,400 hectares) as of Friday morning.
The state's largest fire on record burned 273,246 acres (110,581 hectares) in San Diego County in October 2003.
The Thomas Fire destroyed more than 1,000 structures as it raged through Ventura and Santa Barbara counties. It's now 65 percent contained and all mandatory evacuations have been lifted.
___
12:42 a.m.
The worst appears to be over for a massive wildfire that plagued a wide swath of the Southern California coast for 2 ½ weeks.
All but a tiny handful of evacuation orders for the fire were called off by Thursday. At its peak the fire drove about 100,000 people from their homes. Now only a remote wilderness valley is under an evacuation order.
The so-called Thomas Fire could very well still grow to become the biggest wildfire in California history, but as a gentle giant, not a raging beast.
Officials say the only visible flame was on the northern side of the fire where controlled burns set by firefighters to clear vegetation were being conducted.
The fire is responsible for two deaths and destroyed 750 homes.