The Faithful Work of Saving Lives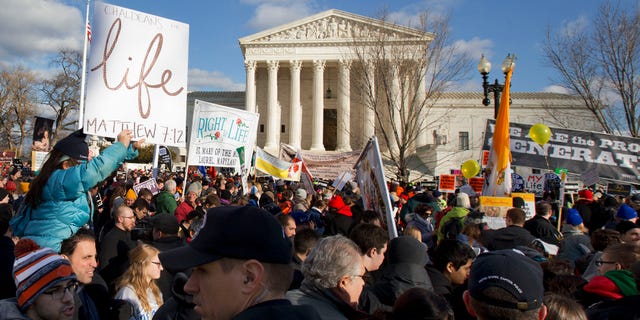 NEWYou can now listen to Fox News articles!
For four years in a row, I have attended the March for Life in Washington, D.C. It is an overwhelmingly positive, spirit-lifting, grace-filled experience to be surrounded by like-minded individuals who all share the sacred goal of respecting and protecting life.
It is a wonderful, intensely emotional event that recharges my batteries and bolsters my hope in our cause. When I return home after the march, I'm ready to get back to the work of saving lives by changing hearts and minds.
Unlike a march or a rally, the National Right to Life Committee's Annual Convention inspires pro-life advocates to action in a different -- but no less important -- way with educational workshops, panel discussions, informative speeches, and the sharing of individual personal stories. This year's convention kicks off today, July 7, and runs through July 9, 2016, in Herndon, Virginia.
The workshops offer attendees learning opportunities to increase their knowledge in many facets of the cause for protecting life from conception to natural death. Last year, I gave a workshop and shared my personal experience with abortion, suicide, and working in the abortion industry -- but I also attended presentations on politics, psychology, euthanasia, and learned (in layman's terms) how the Abortion Pill Reversal medical protocol works.
This was a distinctly different way to "recharge my batteries" to keep up the good fight, and I'm grateful for both such opportunities.
"Preparing for the convention is a year-long process that intensifies as we get closer to the date of the event," said Luis Zaffirini, assistant director of State Organizational Development and Conventions for National Right to Life. He is responsible for helping director Jacki Ragan with inviting, coordinating travel, and securing accommodations for speakers, as well as creating unique artwork for print and for the web and coordinating the registration process.
Former Planned Parenthood worker and national pro-life speaker Catherine Adair is traveling from Boston to attend the NRL Convention for the first time this year. She and I are participating in a general session panel discussion called "Sharing Our Stories: How Abortion Affects Women's Lives" and co-presenting a workshop entitled, "Conversion, Compassion, and the Clinics," outlining the similarities and differences of our own personal abortion experiences and our past work in the abortion industry.
"I'm looking forward to the convention because it covers a full spectrum of life issues, whereas the march is focused on abortion," she said. Adair told me she is most looking forward to learning more about end-of-life care issues. I agree -- and I'm most interested in attending the general session panel called "The Deadly Consequences of Medical Discrimination," featuring Terri Schiavo's brother, Bobby Schindler.
The presentations, workshops, and events of the National Right to Life Convention are spread out over three days, with information tables open to visit each day as well. There's also a teen track called "Life Camp" that offers presentations on pro-life apologetics and on how to get friends involved. It also includes personal testimonies like that of Bryan Kemper, director of Youth Outreach for Priests for Life and president of Stand True Pro-Life Outreach.
His talk is called "Social Justice Begins in the Womb: The Story of a Punk Rock Street Thug Turned Pro-Life Advocate" -- and it's fascinating, raw, and inspirational.
"I think it's important for me to share my story with young people -- to help them not go through the same pain and agony I did by making those life choices," said Kemper. He added, "As a parent of teenagers, I see the struggles and obstacles they face every day, and if I can help detour them from that life by sharing my story, I know I have done something right."
Until we can transform these annual gatherings into celebrations of achieving our goals, I look forward to each opportunity to reclaim enthusiasm and learn more about how , from conception to natural death.
Jewels Green is a mother, writer, public speaker, and advocate for the right to life from conception to natural death. She lives in a suburb of Philadelphia.