Texas police seek girls, 14 and 7; may be with person of interest in suspicious death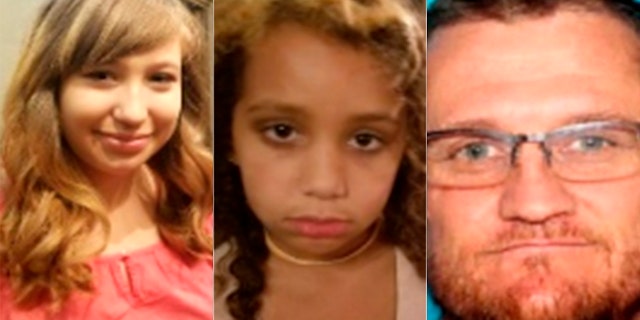 Texas police issued an Amber Alert for two girls, ages 14 and 7, who may be with a man described as a "person of interest" in a suspicious death on Sunday.
Police found the body of Tonya Bates inside a home after responding to a welfare check in Round Rock, Tex., Round Rock Police Chief Allen Banks said during a press conference on Monday.
Bates is the mother of the two children, Banks said. The cause of her death was not released.
Police believe that Terry Allen Miles, 44, is connected to the suspicious death and the abduction of the two girls, Lilianais Victoria Cake Griffith, 14, and Luluvioletta Mariposo Bandera-Magret, 7.
Griffith and Bandera-Magret are believed to be in danger, the Austin-American Statesman reported.
In 2011, Miles was arrested in Louisiana on attempted second-degree murder charges, KPLC-TV reported at the time.
He allegedly attacked his then-girlfriend with a blunt object and strangled her to the point of unconsciousness.
"Our concern and our focus is bringing these two girls home safe," Banks said. "We ask for the public's help in locating these two young girls."
"We do not believe they are with Terry Allen Miles willingly," he later added.
Police have not released a motive in the disappearance of the two girls.
Miles is 6-feet 2-inches and weighs 200 pounds. He has hazel eyes, wears glasses and has a beard, according to the Round Rock Police Department. Miles was last heard from in Round Rock on Saturday. He is driving a gray 2017 Hyundai Accent with Texas license plate JGH9845. The car also has a white sticker on the upper right hand corner of the rear window, police said.
He may be headed toward Louisiana, according to KHOU-TV. As of Monday, Miles and the two girls were last seen in northern New Mexico and possibly southern Colorado, Banks said during the press conference.
Griffith is 5-feet 10-inches, weighs 100 pounds and has brown eyes. She also has a nose stud in her right nostril and has braces. Bandera-Magret is 4-feet 5-inches and weighs 75 pounds. She has curly brown hair and brown eyes.
A spokesperson for the Round Rock police did not provide any additional comment when contacted by Fox News on Tuesday.
Round Rock police ask people with any information regarding this situation to call 512-218-5515.