Tennessee church reportedly stands behind pastor accused of plotting to kill his wife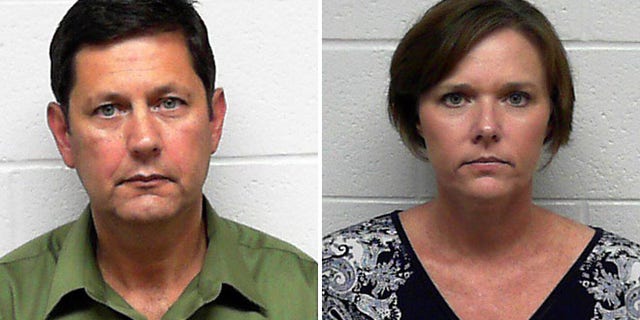 NEWYou can now listen to Fox News articles!
A Tennessee church member whose former pastor is on trial for allegedly plotting to kill his own wife called the accusations "just charges," and said he's not supporting or condemning the well-respected church leader until "the truth comes out."
Edward Paul "Eddie" Mallonee, who resigned in February as pastor of Second Baptist Church, is accused, along with his alleged mistress, of planning to poison his wife, Cathy, while she was on a church mission in Honduras.
Mallonee and his co-defendant, Shelley Shannon Moran, have both pleaded not guilty to charges of conspiracy to commit first degree murder and attempt to commit first degree murder.
While Mallonee, a popular Christian minister, maintains his innocence, his wife is standing by his side -- accompanying him inside a Union City, Tenn., courthouse last week, with other family members present.
Neither Mallonee nor his wife could be reached for comment Friday. It's not clear whether Cathy Mallonee believes the allegations and has chosen to forgive her husband, or refutes the charges against him.
The church's congregation, meanwhile, is remaining steadfast in its support of Eddie Mallonee, reportedly passing out flyers outside the courthouse that said, "the blood of Jesus forgives sins."
All the church members have made a pact not to speak to the media, except for one, David Parks, who described the charged to FoxNews.com as "shocking."
"It's shocking because you put your faith and trust in someone so highly respected in the community," he said. "But they're just charges at this point."
"I'm not supporting him and I'm not condemning him," Parks said. "I'm waiting for the truth to come out. That's the way the judicial system works in this country."
Parks went on to say that he's "not surprised" Cathy Mallonee is supporting her husband of 34 years. He also said that if a jury convicts Mallonee of the charges, he will find it in himself to forgive as well.
Parks told a local news station that Mallonee confessed to his congregation that he had sinned during a service one Sunday night last February. He resigned two days later. It's not clear whether the alleged confession involved his affair or the murder accusations, or something else.
In a statement released to FoxNews.com, the church said it is "broken-hearted and grieved over this situation."
"We will seek God's will and direction on how to love and minister to all of those affected," the statement read. "As brothers and sisters in Christ, we will continue to serve God in our community through ministry and missions for His glory."
FoxNews.com's Cristina Corbin contributed to this report.