Teen with rare aging disease dies day before realizing NFL dream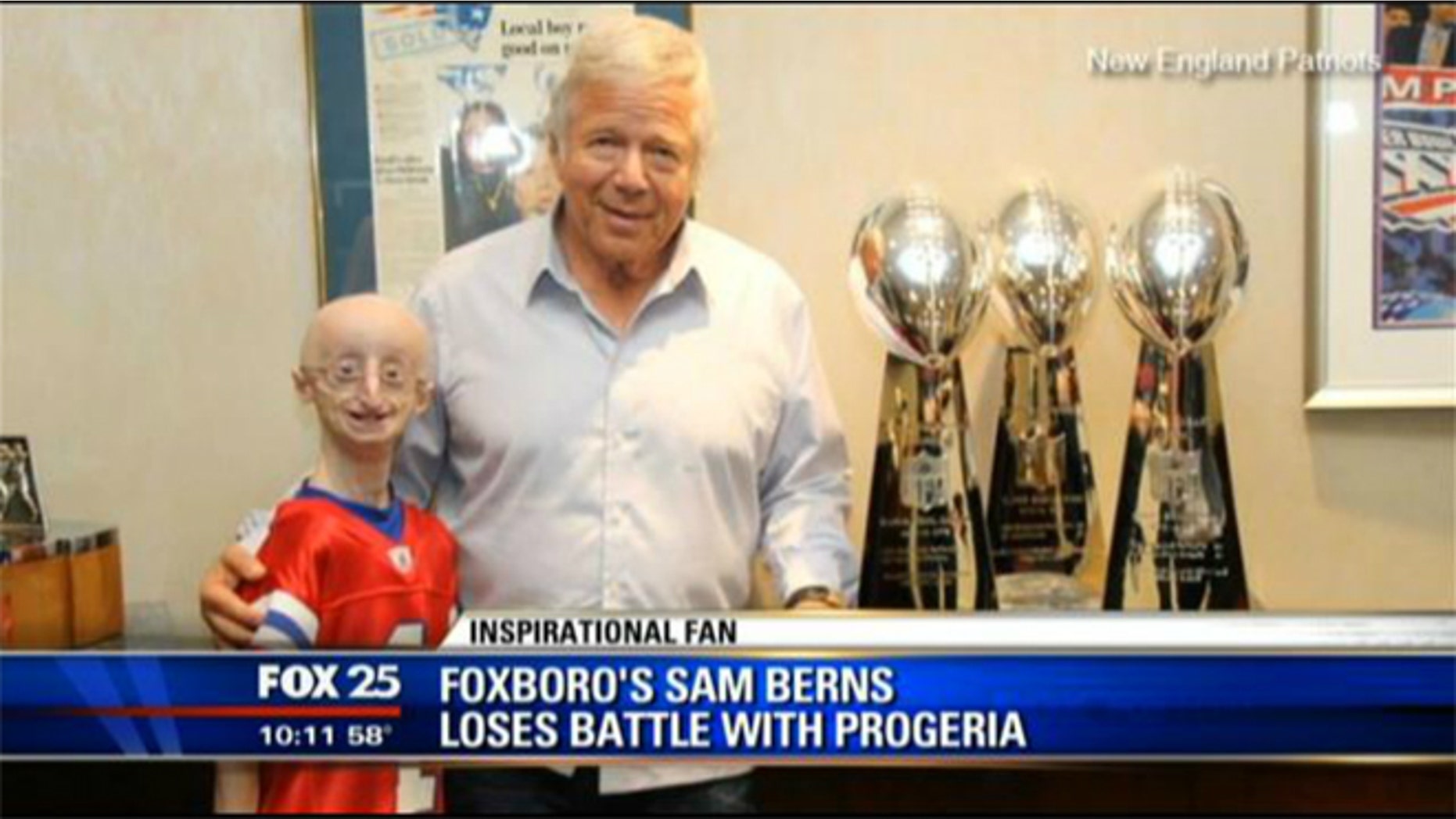 A Massachusetts teen credited with inspiring legions through his brave fight against an extremely rare illness died Friday -- one day before he was to serve as honorary captain for the New England Patriots' at a playoff game.
MyFoxBoston reports Sam Berns, 17, died from complications related to progeria syndrome, a genetic disorder that debilitates approximately 1-in-8 million children with stunted growth, rapidly advanced, or premature, aging, and the deterioration of one's organs uncharacteristically early in life.
"I loved Sam Berns and am richer for having known him," Patriots owner Robert Kraft wrote in a statement following Berns' death on Friday night.
"He was a special young man whose inspirational story and positive outlook on life touched my heart. I am so lucky to have had the opportunity to spend time with him and to get to know his incredible family."
Berns, a Foxboro High School junior, was the subject of a 2013 HBO documentary about his family's dogged search for a cure, called "Life According to Sam."
"You're a different person after you meet Sam for the first time," John Seng, a Progeria Research Foundation board member told the Boston Herald. "We go through every day worrying about traffic jams and why the Internet is so slow, yet, here is Sam Berns, carrying on with his life. He didn't want people to feel sorry for him, he said he was happy and he meant it."
Berns' parents, Leslie Gordon and Scott Berns -- both doctors -- founded the organization in 1999, a year after their son was diagnosed with the illness, according to the Progeria Research Foundation's website.
Kraft, just hours before the Patriots would beat the Indianapolis Colts 43-22 in the team's AFC Divisional Playoff Game, said, "I had extended an invitation for Sam to be the Patriots' honorary captain for tonight's playoff game. I was looking forward to spending more time with Sam and his family.
"News of his passing came as a complete surprise. It is another reminder that we can't take anything for granted. Be sure to give your loved ones hugs and kisses and tell them how much you love them."