Teen uses golf to honor Army dad killed in combat
HILTON HEAD ISLAND, S.C. – Kayleigh "Buggy" Reinke was only 3 years old when her father, Army Staff Sgt. Gavin Reinke, was killed by a roadside bomb during his second deployment to Iraq in 2006. The toddler with short platinum blond hair and a big, bright smile had a tough time dealing with the loss.
"I would go somewhere for the day, she would be afraid and say things like, 'Daddy went away and he died. Is mommy going to die because she went away?'" said her mother, Carole Reinke.
Now, the 15 year old uses golf to help her cope.
"I felt like I was connected to him in another way and it has brought me so far," Buggy said through tears.
Her dad was an avid golfer and she discovered she loved the sport as well. She found it helps her stay connected to her late dad.
In her golf bag, she keeps a small slightly worn, camouflage Bible he kept in his pocket during his deployment. It held photos of his wife and daughter.
"It's pretty cool to have something of his that he used to use is like," said Buggy, a nickname her father gave her, "pretty cool."
Over the past three-and-a-half years, she has competed in competitions across the Palmetto State.
"I see this light in her that for so long was gone after she lost her dad. And now it's there," her mother said.
When she's not walking six miles in 100-degree weather during a tournament, she is outside practicing two hours a day, six day a week with her coach Judson Mullis, or J.D.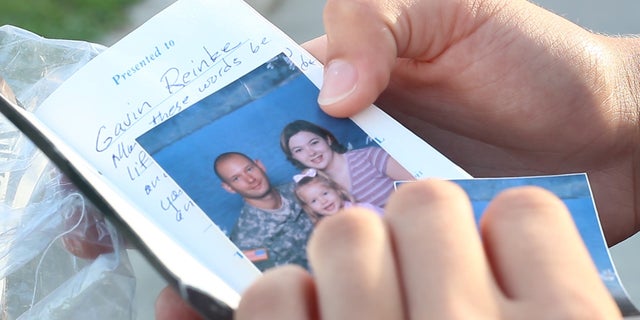 "That young lady has just taken this game, which is really hard, and never given up and I think that's something she may have gotten from her father," J.D. said.
To date, Buggy has competed in 45 matches with the help of Angels of America's Fallen, an organization that helps children who had a parent who died in combat or from suicide after suffering post-traumatic stress disorder stemming from his or her time in the military.
"They have stepped in and been an amazing resource," Reinke said.
She said members of the organization may call the children of those who made the ultimate sacrifice angels, but she says they are the true angels.
"They have put us in contact with people that can help with furthering whatever it is she wants to do. They provide emotional support. They provide encouragement," Reinke said. "They send her stickers. You know and she's a teenage girl, that sticker is like the coolest thing in the world."
Staff Sgt. Reinke was with 5th Engineer Battalion out of Fort Leonard Wood, Mo. when he was deployed to Baghdad during Operation Iraqi Freedom in November 2005. He was one of two soldiers who died after an explosion in the capital city in May 2006.
His wife said she was told her husband died while trying to help fellow soldiers whose Humvee had been hit by an explosive moments earlier.
"That's exactly the kind of person he was," the Gold Star wife said. "He was an amazing man. As a friend, as a father, as a husband, and it carried over to being a soldier."
Reinke is buried in Arlington National Cemetery.
"I don't remember a lot," Buggy said as tears began trickling down her face. "But my mom has told me a lot. He was really tall and really goofy. And really fun to be around."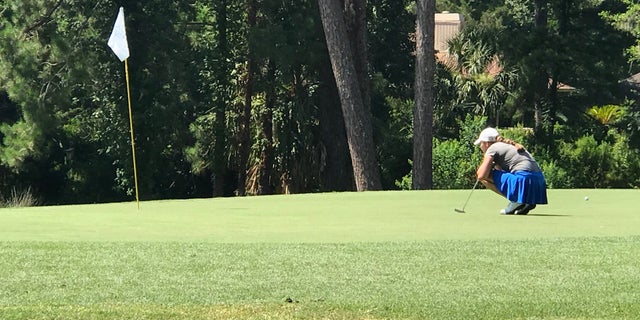 She may not have her dad, but every time Kayleigh steps out on the green her mother is there – every step of the way.
"We have learned how to be a unit, the two of us. And to learn that everything we do, even though we have lost him, we have a lot to be thankful for," Reinke said.
Kayleigh will be competing in tournaments across the state until school starts in August. If she wins, Buggy and her mother will honor her father by taking the trophy to his gravesite in Virginia.