Teen accused in Ohio high school drug ring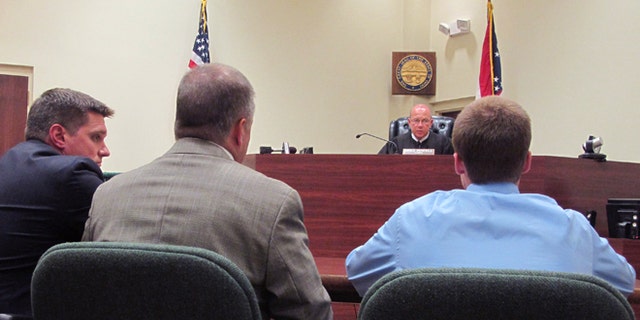 MASON, Ohio – One of the biggest drug dealers in the Cincinnati area was led into court this week. He looked more like the president of the math club -- skinny, pale, bespectacled, dressed in a blue buttoned-down shirt and khakis, and just 17 years old.
Three weeks before he was supposed to start his senior year in high school, Tyler Pagenstecher pleaded guilty to drug-trafficking charges in juvenile court after being arrested and accused of playing a major role in a ring that sold as much as $20,000 worth of high-grade marijuana a month to fellow students in and around this well-to-do suburb.
"He is his own little czar over this high school scenario," said John Burke, commander of the Warren County Drug Task Force, adding that he has never seen a more successful teenage drug dealer in his jurisdiction.
At his sentencing Sept. 18, Pagenstecher could be ordered held until he turns 21.
While some neighbors and fellow students at Mason High School were shocked at the arrest, saying Pagenstecher seemed like an ordinary, easygoing kid who liked skateboarding, riding bikes and hanging out, 17-year-old friend Leslie Philpot said she and plenty of others knew he smoked pot and suspected he sold it, too.
"Anyone he was friends with knew," she said. "He never came out and said, `I sell drugs' but he would say things where you know what he was talking about it. He'd be like, `I don't have a real job. I don't need one. I have plenty of money.' Then he'd wink and you would know."
Pagenstecher took orders from adults who led the drug ring but was in charge of six teenage lieutenants who helped sell the pot, authorities said.
They, too, were arrested, as were seven adults, ages 20 to 58, who allegedly grew the weed under artificial lights in a furniture warehouse and two suburban homes.
The task force seized more than 600 marijuana plants with an estimated street value of $3 million, or $5,000 a pound. Investigators also found $6,000 in cash in Pagenstecher's bedroom.
Pagenstecher and his family denied requests for comment, as did his lawyer.
Most of his customers attended Mason High and Kings High, two highly ranked public schools some 20 miles outside Cincinnati with lots of high-achieving, college-bound students from neighborhoods filled with doctors, lawyers and white-collar employees of Procter & Gamble and other major corporations.
Burke said Pagenstecher had been dealing drugs since at least 15 and managed to stay under authorities' radar for a long time by not selling pot at school, but largely out of his home, a two-story, white-brick house on a spacious corner lot where he lived with his single mother and 20-year-old brother.
Investigators said they found no evidence Daffney Pagenstecher, a school bus driver, knew what her son was up to.
By all accounts, he didn't throw a lot of money around. He had no fancy car, no fancy clothes, just normal teenage stuff like video games, Burke said. But the task force eventually got wind of what he was doing from informants and other sources last year, and undercover officers bought drugs from him twice, the officer said.
"Whenever you have someone in high school selling this kind of volume, it's going to attract attention sooner or later," Burke said.
Courtney Reeves, a high school teacher who grew up down the street, said she did notice a lot of cars coming and going from his house but figured he had a lot of friends.
"He honestly was your average high school student," Philpot said. "At least everyone thought he was your average high school student."
She said she wasn't surprised Pagenstecher was able to do so much business at Mason. "Any party you go to, you walk in and you're handed a beer and offered to hit a joint," she said. "It's everywhere -- football players, basketball players, straight-A students, cheerleaders."
With his arrest, Pagenstecher achieved a sort of celebrity among classmates, Philpot said: "There's some people who are like, `Tyler's a god. He's amazing for pulling that off for so long."'
She said Pagenstecher is incredibly smart and always got A's and B's but never talked about whether he wanted to go to college.
Prosecutor David Fornshell said it is clear that Pagenstecher is highly intelligent, and he hopes the young man goes straight.
"At the end of the day, that's what I want to see," he said. "Getting him straight so he can use his intelligence for the betterment of society rather than trafficking drugs to our young people."