Teacher misspells Hillary Clinton's name, leading family to demand apology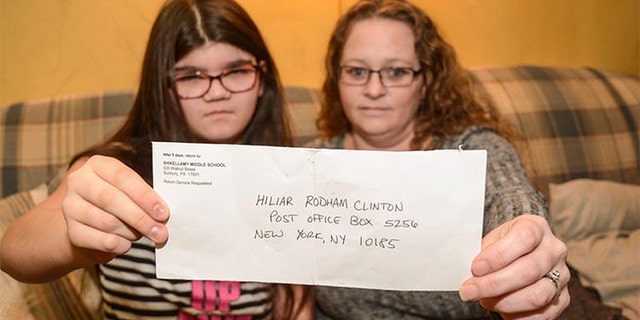 A Pennsylvania family is demanding a public apology from their daughter's sixth grade teacher after the man admitted to intentionally misspelling Hillary Clinton's name in a letter the 11-year-old had written.
Mary Reinard, 11, of Sunbury said she wanted to write a letter to the former presidential candidate because she considers Clinton her hero.
She told the Daily Item she had seen a story online about Clinton reportedly speaking to the dead, and, having lost a baby sister nearly a decade ago, Mary said she wanted to know if it was true.
The preteen asked Benjamin Attinger, her teacher at Shikellamy Middle School, for help to address the letter to the appropriate place.
ENGLISH PROFESSOR 'PLEDGES' SHE WON'T DISCLOSE IMMIGRANT STATUS OF HER STUDENTS
On Friday, with her letter ready to be mailed at home, Mary and her mother Shannon were surprised when they took a closer look at the address.
Attinger had addressed the letter to "Hiliar Rodham Clinton" – misspelling the former Secretary of State's first name to include the word "liar" in it.
Shannon Reinard, 35, and her husband Shawn Reinard, 38, called the school to complain, saying they were angry a teacher's politics made it into the classroom.
"He can write a letter himself and call her a liar," she said. "Don't channel it through my 11-year-old daughter."
She said Attinger called them and admitted, in a voicemail, that he had done it on purpose but as a joke.
"When I addressed it, I put liar in the name because I was telling her it [talking to the dead] wasn't true," he reportedly said. "It was kind of a joke. I didn't really expect it to be taken the way that apparently she took it. I apologize."
YALE PROFESSOR SLAMS HOWARD DEAN FOR HALLOWEEN COSTUME CONTROVERSY COMMENTS
Mary Reinard told the newspaper that she didn't notice the misspelling at first, but dreads what might have happened had they not caught it and it was sent out.
"I would have felt embarrassed," she said. "I wouldn't have been able to go to school for a week."
Shawn Reinard, who told the newspaper that he didn't vote in the 2016 presidential election but would have supported President Trump, said he initially found the envelope funny but quickly changed his tune after seeing his daughter's anger.
"I'm angry," he said. "Whether I agree or not, you keep that out of school. His student asked him for help, and he failed as a teacher. At minimum, he owes my little girl a public apology."
The Reinards said they met with Attinger and school and district officials Tuesday.
Mary Reinard said Attinger again offered an apology – which they accepted – but wanted "people to know what happened here."
The district's Superintendent Brett Misavage confirmed a meeting took place with the Reinards on Tuesday, but declined to comment further to the Daily Item.
Shannon Reinard did not immediately respond to Fox News' request for comment on Wednesday.