Swine flu found at Ohio county fair; hogs to be slaughtered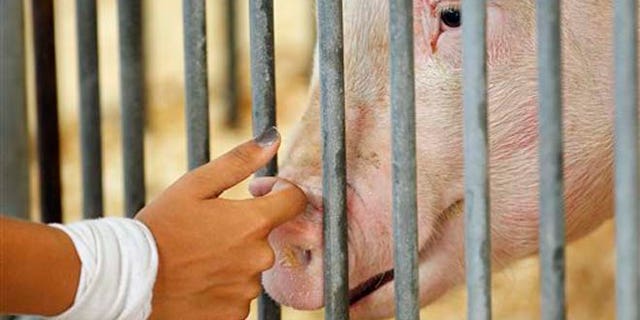 A hog barn at an Ohio county fair was quarantined and the animals sent there to compete will be slaughtered, after swine flu was detected.
One of the hogs at the fair had a fever and tests came back positive for swine flu, Clinton County Fair officials told WLWT. On Thursday, a fairground official confirmed that more than one case of H3N2 swine flu was reported at the barn.
Nearly 280 hogs sent to the fair to compete had been removed from the fairgrounds by Friday morning. They will be slaughtered, WLWT reported.
Officials also will disinfect the barn to make sure the virus doesn't spread.
The building was wrapped in red tape, and only breeders and exhibitors were allowed in.
VACCINE SPRAY MAY NOT WORK FOR SWINE FLU IN KIDS
"It's been a hard day, got a lot of kids that have (a) gilt or barrow or whatever that we were going to retain and now they've got to be slaughtered. It's very unfortunate," hog breeder Joey Johnson told WLWT.
The rest of the fairgrounds remained open to visitors, but fairgoers experiencing flu-like symptoms were advised to see a doctor.
The Centers for Disease Control and Prevention reports that humans can be infected with H3N2 and the infections are most commonly associated with prolonged exposure to pigs at agricultural fairs.