California police find truck in hunt for alleged 'cop-killer' as his identity remains elusive
Police in Northern California who are on the hunt Thursday for an alleged "cop-killer" have found the truck he is believed to have driven – but the man's identity remains unknown.
The gray Dodge Ram pickup seen in surveillance footage fleeing the traffic stop where 33-year-old Newman police Cpl. Ronil Singh was shot early Wednesday was found after investigators received a tip leading them to a mobile home park just outside the city. The Stanislaus County Sheriff's Department says they executed a search warrant at a home there, and one resident told local media that he recognized the suspect as his neighbor.
"It's a bit weird," Carlos Salazar said in an interview with CBS13. "You don't know what kind of people people are, I guess."
CLICK HERE TO GET THE FOX NEWS APP
Salazar added that despite living there, he rarely talked to the man and didn't know his name.
Police say they are currently processing the truck for evidence and will provide an update on the investigation at 11 a.m. local time Thursday.
The manhunt began after the suspect shot and killed Singh during a traffic stop just before 1 a.m. Wednesday in Newman, about 100 miles southeast of San Francisco, police said.
Sheriff's officials said Singh had called in the traffic stop and reported "shots fired" over his radio a few minutes later.
FLORIDA K9 KILLED AFTER GUNMAN OPENS FIRE NEAR MALL, INVESTIGATORS SAY
The department said the shooter fled when backup officers arrived to assist Singh, who was then rushed to a hospital. He later died from his gunshot wounds.
Surveillance photos released of the suspect showed him inside the Newman Food Store shortly before the fatal attack.
The suspect had bought two 12 packs of beer, Yoon Kim, the store's owner, told the San Francisco Chronicle.
Kim said her employees recognized the man as a regular at the store, but they also did not know his name.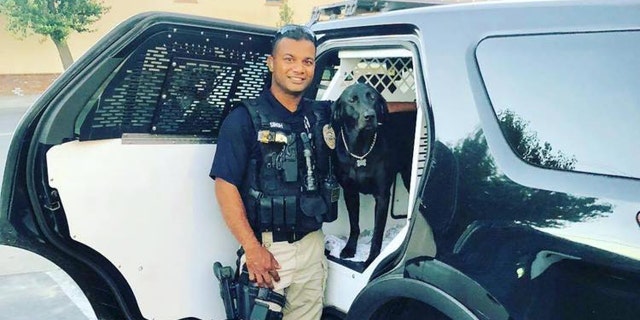 Singh, a native of Fiji, had worked for the Newman Police Department since July 2011. He is survived by his wife and five-month-old son.
"Our Newman Police family is devastated by the loss of Ronil," Newman Police Chief Randy Richardson said. "If anyone has any information regarding the identity of the suspect, please contact law enforcement immediately so we can get this cop-killer off the streets."
California Gov. Jerry Brown also issued a statement regarding the officer's death.
CALIFORNIA POLICE OFFICER SHOT, KILLED DURING TRAFFIC STOP; SUSPECT SOUGHT
"On behalf of all Californians," Brown wrote, "Anne and I extend our condolences to Corporal Singh's wife, young son, loved ones and colleagues. Our hearts are with the entire community of Newman and law enforcement officers across the state who risk their lives every day to protect and serve the people of California."
Fox News' Travis Fedschun and the Associated Press contributed to this report.
The Associated Press contributed to this report.