Suspect surrenders in shooting on University of Washington campus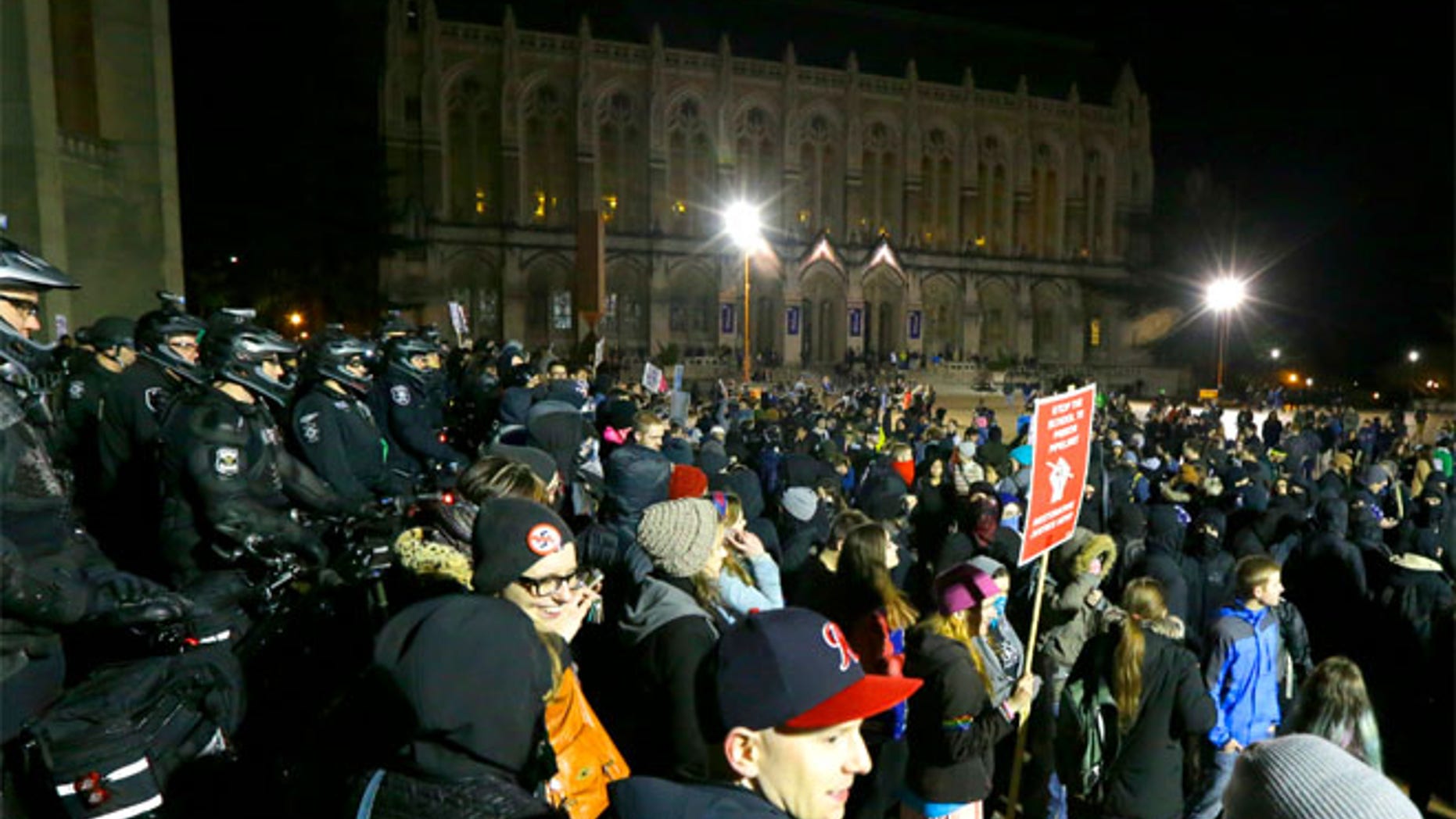 A suspect in a shooting at the University of Washington surrendered to police, according to reports Saturday.
The shooting Friday left a 32-year-old man in critical condition with life-threatening injuries, police said.
The victim was in a crowd protesting a campus event featuring far-right commentator Milo Yiannopoulos.
Police said the victim underwent surgery after suffering a gunshot wound to the abdomen.
Seattle Police reported that the person of interest in the shooting later turned himself into the University of Washington police for questioning.
Police had described the suspect as an Asian male in his 50s wearing glasses, a yellow cap and a black jacket, Q13 Fox reported.
Harborview Medical Center spokeswoman Susan Gregg said the shooting victim was admitted to the hospital around 9 p.m.
People marching against President Trump's inauguratuion joined the Yiannopoulos demonstration at the University of Washington just prior to the shooting. Yiannopoulos writes for right-wing Breitbart News and is known for leading a harassment campaign that resulted in a lifetime ban from Twitter.
One witness told KOMO News that the victim was trying to keep the peace during the protest.
Before the shooting protestors threw bricks and paint balloons at cops police who responded with pepper spray.
The shooting took place near Kane Hall, KOMO reported.
The school's president, Ana Mari Cauce issued a statement.
"I am absolutely heartbroken that someone was shot on our campus during tonight's protest," she said. "I have been very proud of our students who, to the best of my knowledge, acted with restraint, whether they were planning to attend the event or protest it peacefully. It is an outrage that anyone would resort to violence in the middle of this otherwise peaceful protest."
Brietbart reported that the shooting occurred after the speech had already started. Yiannopoulos insisted on continuing after learning about the shooting.
"The police have told me that it is indeed the case. We don't really have a protocol for this. I don't know if it was a fatality or not. Until I do know that, my suggestion is that the show should go on. If I stopped my event now, we are sending a clear message that they can stop our events by killing people. I am not prepared to do that," he said.
The Associated Press contributed to this report