Suspect Arraigned in NYPD Officer's Shooting Death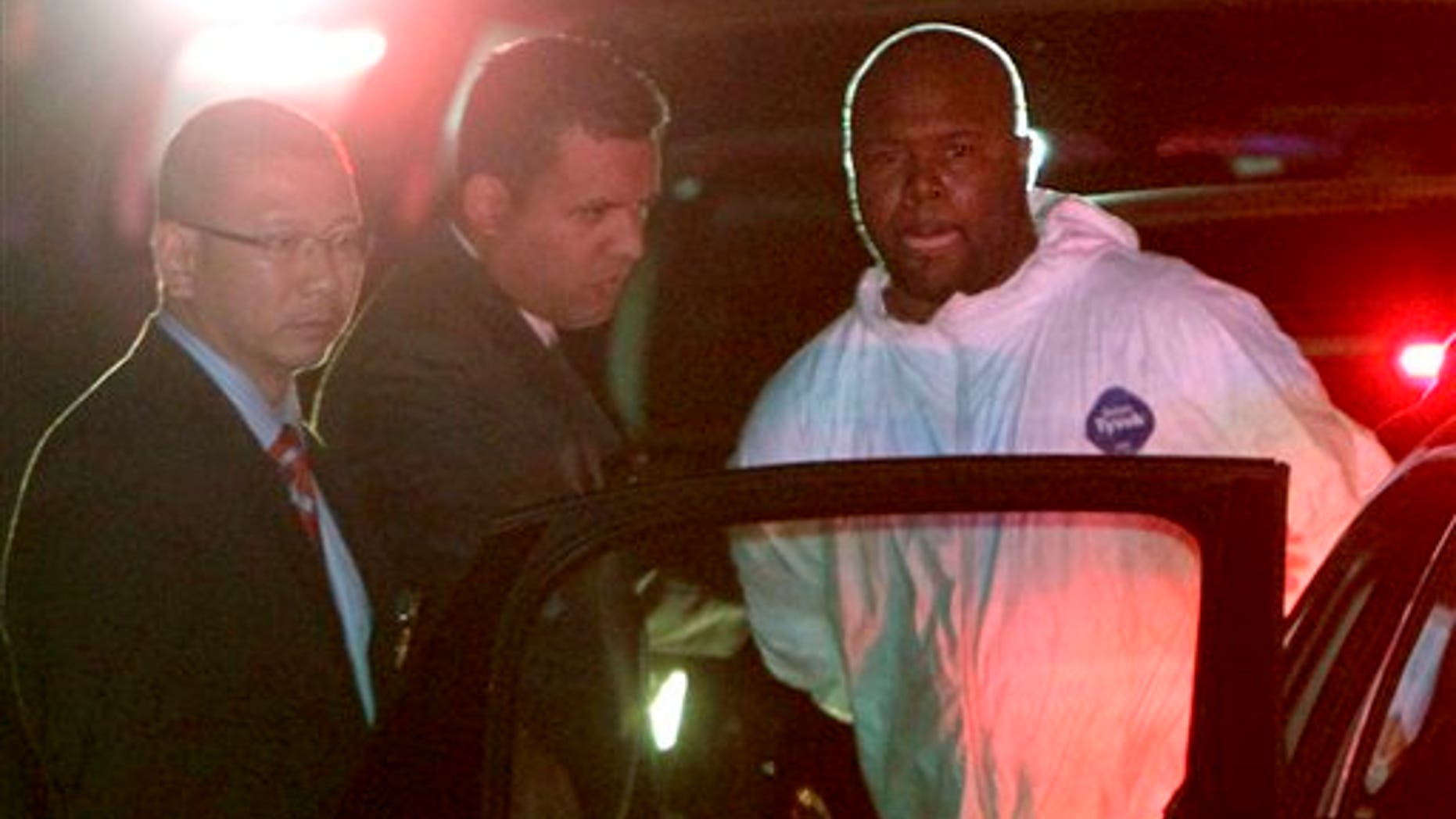 NEW YORK – A convict accused in the cold-blooded slaying of a New York Police Department officer already was wanted in a non-fatal shooting in North Carolina but remained on the streets because arrest warrants didn't require his return there, NYPD officials said Tuesday.
The suspect, Lamont Pride, was arraigned late Tuesday in the officer's killing. He appeared in court shackled and didn't speak.
Pride had been arrested twice in recent months in New York for weapons and drug possession. Each time, he was released after police found they had no grounds to hold him under the North
Carolina warrants, police Commissioner Raymond Kelly said at a news conference announcing that Pride and three other men were facing murder charges.
Following the second arrest on Nov. 3, an NYPD supervisor called North Carolina authorities out of "concern that there's an individual who's wanted for a violent act who could be let go," Kelly said.
On Nov. 7, North Carolina officials amended the warrants to require Pride be held until state authorities could retrieve him, but by then he had been released pending a January court date in New York, Kelly said.
"Of course, he should not have been out on the street," Kelly said. "He should, ideally, have been extradited to North Carolina, but that didn't happen."
There was no immediate response to messages left with police in Greensboro, N.C., where Pride has three outstanding warrants -- for possession of a firearm by a felon, assault with a deadly weapon with intent to kill inflicting serious injury and felony conspiracy -- in an August shooting. The shooting stemmed from a dispute with another man over a woman, Kelly said.
Pride also served a short prison term in North Carolina for robbery. He was released in October 2010.
Officer Peter Figoski, a 22-year NYPD veteran, was killed early Monday during a botched armed robbery by Pride and four other men of a marijuana dealer living in a basement apartment in Brooklyn, police said. The men are accused of meeting to plan the robbery at about 1 a.m. and arriving at the door of their target at about 2:15 a.m.
When the robbery crew smashed in the door and began beating the dealer, the upstairs owner of the home called 911 to report a break-in. Figoski and his partner, Glenn Estrada, were providing backup to two officers questioning the victim and two suspects inside the apartment when Pride and another man, Kevin Santos, tried to flee, police said.
As Estrada struggled with Santos, Figoski came face-to-face with Pride, police said. The suspect shot Figoski once in the face with a semiautomatic handgun before the officer could draw his own weapon, police said.
Estrada heard the shot and pursued Pride in a foot chase before capturing him several blocks away, police said. Santos escaped, but was found at 2 a.m. Tuesday at his girlfriend's home amid an intense round-the-clock investigation.
Two other members of the robbery crew also were arrested on murder charges, police said. A fifth man suspected of driving a getaway car was in custody Tuesday but hadn't been charged.
Figoski was taken to a hospital, where he died about five hours later. The 47-year-old officer was a divorced father of four daughters: Carolyn, 16, and Corrine, 14, both in high school, and Christine, 20, and Caitlyn, 18, who are in college upstate.
After his arrest, Pride made incriminating statements, Kelly said Tuesday. The commissioner wouldn't elaborate.
There was no answer to calls Monday at a Greensboro address where Pride told police he lived, and no phone was listed for a Brooklyn home.
The other men were expected to be arraigned later Tuesday. There was no information on whether they had attorneys.
Figoski's career included more than 200 arrests and 12 medals -- one of them an exceptional merit award for coming under fire in a brush with a man who would later be convicted as the city's Zodiac copycat killer of the early 1990s.
The officer had enough time on the force to retire with a full pension, but "people who love the job stay on," said Lt. John Tennant, who worked with Figoski in Brooklyn's 75th Precinct.
Figoski was "a dedicated police officer," Tennant said. "He was a cop's cop."