Supreme Court justice Gorsuch welcomes new citizens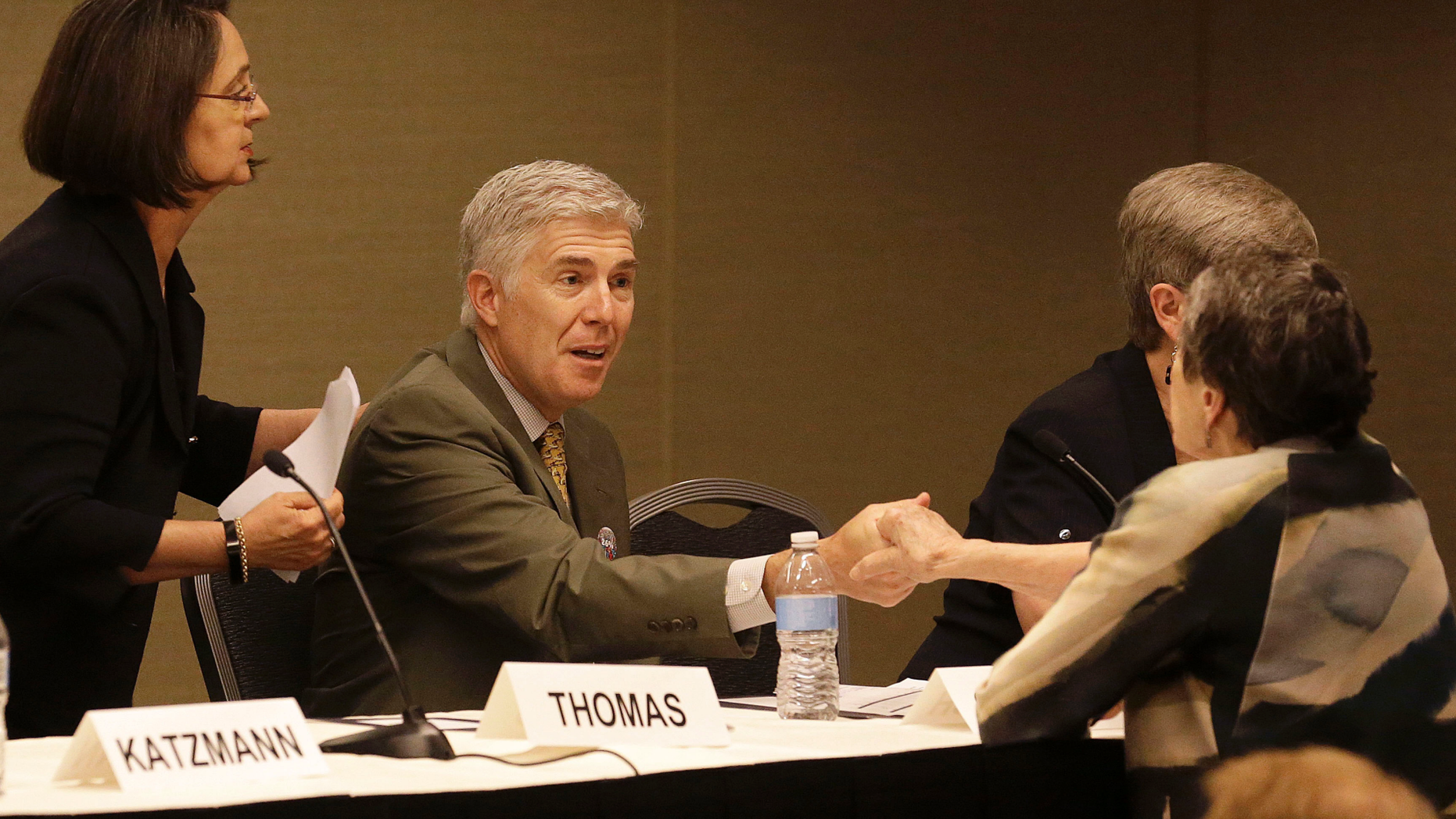 SAN FRANCISCO – A U.S. Supreme Court justice who was in favor of completely reinstating President Donald Trump's ban on travelers from six mostly Muslim countries welcomed new U.S. citizens on Monday, encouraging them to tolerate different points of view and respect people with whom they disagree.
"Democracy depends on our willingness to hear and respect even those we disagree with strongly," U.S. Supreme Court Associate Justice Neil Gorsuch told the citizens following a naturalization ceremony at the 9th Circuit's judicial conference. "In a government by and for the people, we have to remember those with whom we disagree, even vehemently, still have the best interests of the country at heart."
Gorsuch's visit comes as the Trump administration asks the high court to again weigh in on its ban on travelers from six mostly Muslim countries. Gorsuch was among three justices who said in June that the ban should be completely reinstated pending arguments before the high court, and the justice could not escape discussion of the ban during his visit to the 9th Circuit conference.
With Gorsuch seated next to her, an Alaska high school student earlier in the day read her winning essay on Japanese internment — a topic selected by the 9th Circuit.
Olivia Tafs, 15, compared the treatment of Muslims after the Sept. 11 attacks to that of Japanese-Americans during World War II. She cited Trump's travel ban as an example of what she said was ethnic profiling.
Gorsuch shook her hand following the speech.
Gorsuch was a late fill-in at the 9th Circuit conference for Supreme Court Justice Anthony Kennedy, who canceled his trip after his wife fractured her hip in Austria. The 9th Circuit — the nation's largest federal court circuit — includes the 9th U.S. Circuit Court of Appeals and district and bankruptcy courts in California and eight other western states.
Judges in the circuit have blocked both of Trump's travel bans and halted his attempt to strip funding from so-called sanctuary cities.
Gorsuch's remarks come as the Trump administration asks the Supreme Court to again weigh in on its ban on travelers from Syria, Sudan, Somalia, Libya, Iran and Yemen. Gorsuch joined Justice Samuel Alito in a dissent written by Justice Clarence Thomas in June that said the ban, which also blocks refugees, should be completely reinstated pending arguments before the high court scheduled for October.
The dissent argued the administration had made a "strong showing" that it was likely to succeed in overturning court orders blocking the ban. The administration has argued the ban is needed for national security. Lower court judges have cited Trump's comments on the campaign trail as evidence that it was motivated by anti-Muslim bias.
The Supreme Court majority in June said the administration could mostly enforce its travel ban, but must exempt those "with a credible claim of a bona fide relationship with a person or entity in the United States."
U.S. District Judge Derrick Watson in Hawaii last week ordered the government to allow in refugees formally working with a resettlement agency in the U.S. His order also vastly expanded the list of U.S. family relationships that refugees and visitors from six Muslim-majority countries could use to get into the country, including grandparents and grandchildren. The ruling opened the door to entry for tens of thousands of refugees.
The administration appealed the ruling to the U.S. Supreme Court.