Supporters pursue Medal of Honor for World War II veteran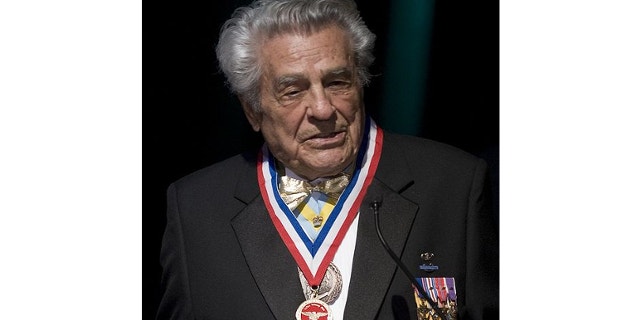 NEWYou can now listen to Fox News articles!
FOND DU LAC, Wis. – Supporters of a decorated World War II veteran are intensifying their efforts to see the 96-year-old Wisconsin native awarded the Medal of Honor.
James Megellas has earned two Silver Stars, two Bronze Stars and two Purple Hearts. But supporters say the retired lieutenant colonel deserves the military's top honor for using two grenades to singlehandedly take out a German tank, The Reporter Media reported.
Megellas was originally nominated for a Medal of Honor. But the paperwork didn't include details about the event involving the tank, so the award was downgraded to a Silver Star.
"The U.S. Army has done great things," said Jim Neumann, a Fond du Lac resident who has taken up Megellas's cause. "But here is a situation where we firmly believe they made an oversight."
U.S. Rep. Tom Petri has previously introduced legislation requesting that President Barack Obama award Megellas the Medal of Honor, but it didn't gain much traction. He said he plans to try again.
"I feel, and certainly those who served with Jim "Maggie" Megellas feel, there's an injustice," Petri said. The Republican congressman said he doesn't know how the new effort will fare but hopes the bill will at least draw further attention to Megellas.
Megellas, a Fond du Lac native, is remembered for his bravery in Herresbach, Belgium, on Jan. 28, 1945.
"We were in a fierce firefight, and all of a sudden around the corner a tank comes toward us," Megellas recalled in a recent phone interview.
As the enemy German Mark V tank bore down on the troops, Megellas leaped into action. He disabled the tank with one grenade, and then scrambled on top and threw a second grenade into the crew compartment.
Neumann said he's only found records of five instances in which an American soldier singlehandedly stopped an enemy tank during World War II. The other four received the Medal of Honor.
"That simply makes no sense to me and a lot of others," Neumann said.
Megellas remains grateful and humble about the fuss being made about him. He said he's thankful for people's support and interest, which itself feels like an award to him.
He also said if he ever does receive the medal, it would be an honor not only to him but also to his family, friends and community.
"I'd wear the medal, but there'd be a lot of people involved in it," he said. "Lots and lots of people."