Steam pipe inspections, cleanup will take days, NYC mayor says, amid asbestos concerns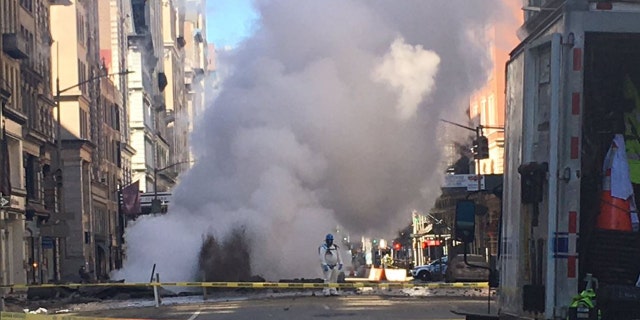 New York City's mayor says it could take days to inspect and clean nearly 50 buildings affected by Thursday's explosion of a nearly century-old steam pipe, which spewed a plume of white vapor 10 stories high.
The total included 28 buildings in a "hot zone" closest to the site of the blast, which left a crater roughly 20 feet by 15 feet in the street and temporarily displaced 500 people from their homes.
Concerns that the steam from the blast contained potentially cancer-causing asbestos raised fears of a repeat of the aftermath of 9/11, when many police, volunteers and other first-responders ended up with often fatal respiratory ailments -- which compounded the loss of some 3,000 people killed by terrorists.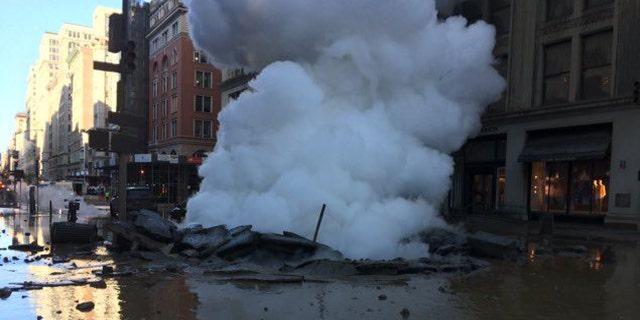 Thursday's blast, around 6:40 a.m. ET, was on a much smaller scale. But nearly 250 residential units were affected, Mayor Bill de Blasio's press office told the New York Times.
De Blasio said Fifth Avenue between 19th and 22nd streets, in Midtown Manhattan, would likely be closed into the weekend, the Wall Street Journal reported.
"I knew either it was a World Trade Center kind of thing or a plane crash," Doreen Black, who was in bed in her apartment at 22nd Street and Broadway during the blast, the Times reported. "That was my fear."
"I knew either it was a World Trade Center kind of thing or a plane crash. ... That was my fear."
Officials were working to determine when the buildings will be safe to enter, the mayor said, according to the Times.
"We're going to work from an abundance of caution," de Blasio said. "Now that we know there's asbestos present, we're not going to cut any corners. We're going to be very thorough."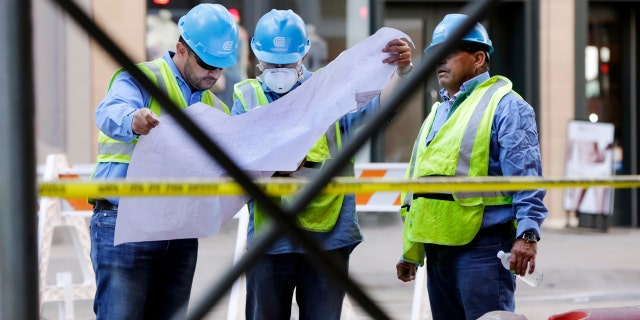 New York Gov. Andrew Cuomo said he has directed the Department of Public Service to conduct a full investigation into the cause of the explosion.
Five people, including three civilians, suffered minor injuries.
"There was asbestos in the steam line casing," de Blasio said, but "the air cleared fairly quickly after the incident."
City officials said there was no major public health threat.
It was not immediately determined what caused the blast in the 20-inch pipe. De Blasio said no work was being done on the pipe at the time.
"All of a sudden I heard 'Pow!'" Shella Eckhouse told the Journal. "There was debris coming down and steam flying. I was covered in mud."
"All of a sudden I heard 'Pow! ... There was debris coming down and steam flying. I was covered in mud."
Con Edison, the energy company that operates the system of steam piping, said the explosion disrupted some underground power and gas lines but did not cause outages, according to the Times.
Fire Commissioner Daniel Nigro said the pipe that blew was installed in 1932.
Similar explosions over the years have drawn attention to the aging infrastructure beneath the streets of the nation's largest city.
A July 2007 blast tore a deep crater in an intersection near Grand Central Terminal and sent a scalding geyser into the air, leaving one woman dead from a heart attack as she fled. Dozens of people were injured; some suffered horrible burns or had limbs severed.
That past explosion happened after water accumulated in a manhole and traps that were supposed to have relieved pressure became clogged with sealant. Thursday was just a day after the 11th anniversary.
The Associated Press contributed to this report.