Statue of Korean War horse Reckless to be unveiled at Marine museum in Virginia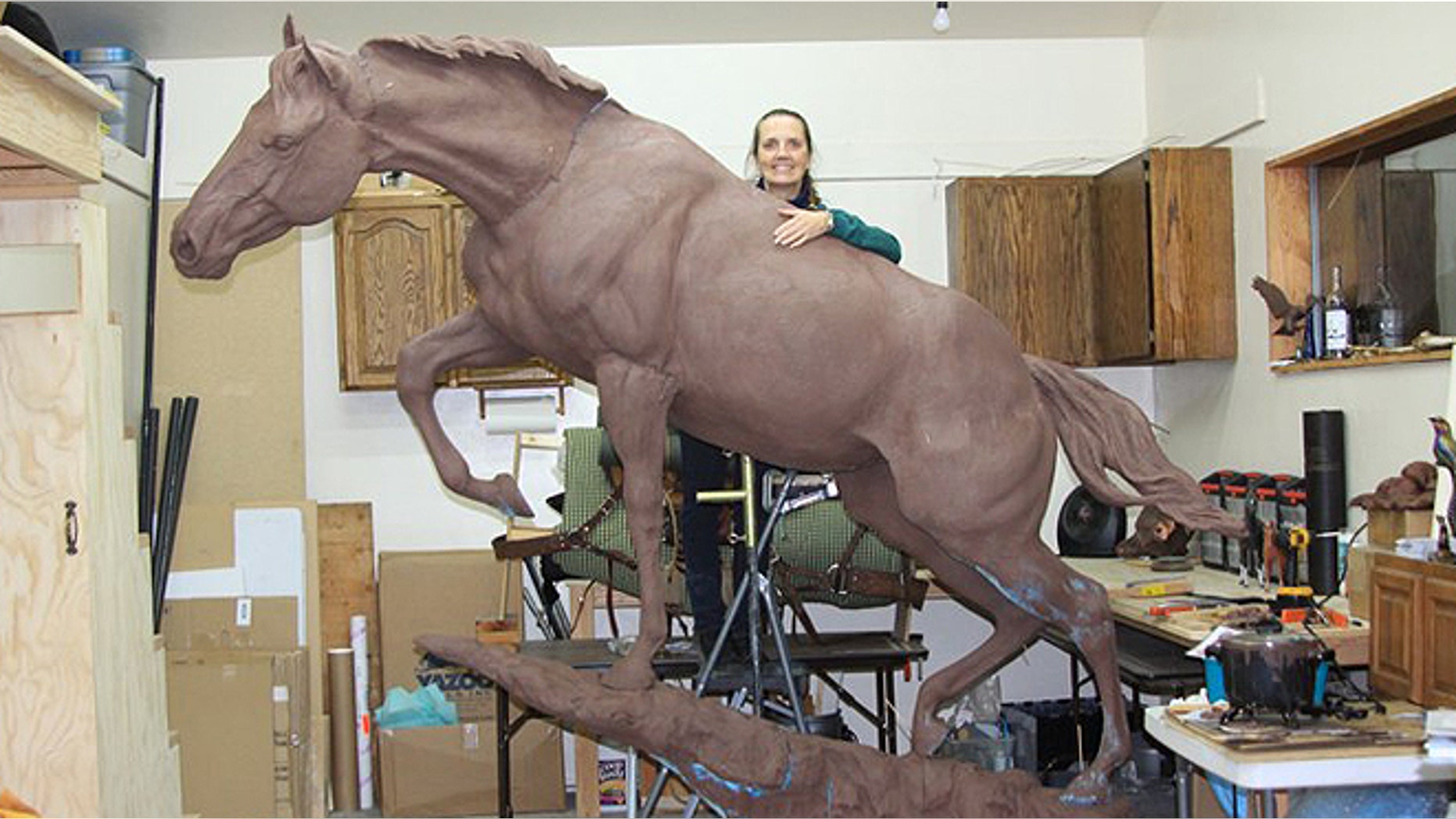 Some 60 years after carrying wounded soldiers and ammunition during heavy firefights, a decorated war horse praised as America's greatest equine soldier during the Korean War is finally being immortalized.
Staff Sgt. Reckless, a Mongolian mare that served in the U.S. Marine Corps during the Korean War, made 51 solo trips during a five-day battle in March 1953, carrying nearly 10,000 pounds of ammunition and explosives from a supply depot to the front lines.
She was wounded twice and later received two Purple Hearts for her service, as well as several other military decorations. On Friday, a 10-foot bronze statue by sculptor Jocelyn Russell of the courageous — and insatiable — horse will be unveiled at the Marine Corps Museum in Quantico, Va.
"She wasn't a horse, she was a Marine," said Robin Hutton, whose book, "Sgt. Reckless, America's War Horse," will be published later this year. "When the Marines got her, they became her herd. She bonded with them and would do anything for them. She'd follow them anywhere and everywhere."
[pullquote]
The 900-pound Reckless, whose legendary appetite included huge portions of scrambled eggs, chocolate pudding and even beer, joined the Marines in 1952 after she was purchased by a soldier for $250 from a Korean boy who needed money to buy an artificial leg for his sister.
Then known as "Flame," the horse was later renamed by the Recoilless Rifle Platoon of the 5th Marine Regiment, Hutton said, adding that the horse was not startled by the powerful anti-tank guns used by the unit.
The horse's main caretaker, Sgt. Joseph Latham, quickly "taught her everything," Hutton said, including how to kneel during incoming fire or to step over barbed wires. Reckless also quickly memorized routes to and from battle stations, travelling dangerous paths and mountain trails without the accompaniment of a fellow Leatherneck.
Hutton said she expects emotions to be running high when Korean War veterans attend Friday's ceremony.
"They're coming to town to honor Reckless because the horse meant so much to them," she said. "They're going to cry, I know they are."
After the war, Reckless, who was praised by The Saturday Evening Post while still in Korea, made several television appearances, including on the "Art Linkletter Show." A film was planned, but ultimately did not materialize, Hutton said, and the horse fell from the national conversation. She later retired in 1960 at Camp Pendleton and after dying of natural causes, was buried there with full military honors on May 13, 1968.
Reckless gave birth to three colts — named Fearless, Dauntless and Chesty — and a filly that died one month later. Hutton said it's "disappointing" that the horse's line was not carried on, but she hopes Friday's ceremony will re-ignite interest in Reckless, whom Hutton featured in a screenplay she's written.
"I've been so blessed with this story," Hutton said. "This horse has forever changed my life."
More than 33,000 U.S. soldiers were killed during the Korean War, with another 100,000 wounded and 7,000 additional soldier still listed as missing in action, according to Department of Defense statistics.
Maj. Billy Canedo, of the Department of Defense's 60th Anniversary of the Korean War Committee, told FoxNews.com that up to five Marines who served alongside Reckless are expected to attend Friday's ceremony.
"What's special to me about this story and the accounts of her exploits is that she travelled with no handler," Canedo said. "Whenever a Marine would get hit or wounded, a fellow Marine would put that Marine on Reckless' back to be carried down to the casualty collection point. Then Reckless would walk back with ammunition."
Canedo said Reckless walked more than 35 miles amid heavy enemy fire and, according to military lore, never flinched.
"She was probably going against every instinct of an animal, working off pure love of her fellow Marines," he said. "That's what is remarkable to me. The story, to me, is a great story."