Southwest Airlines flight forced to land after bird strike day after deadly accident
A bird strike forced a Southwest Airlines flight to land in Nashville on Wednesday morning shortly after takeoff -- the latest mishap for the airline coming just a day after a passenger on another flight died after she was "partially sucked out" a window due to an engine explosion in midair.
Flight 577 departed just after 5 a.m. Wednesday from Nashville International Airport en route to Phoenix, but was forced to turn around 24 minutes after takeoff. The plane landed safely back in Nashville and was "taken out of service for maintenance review," FOX17 Nashville reported. Nobody was injured during the landing. Employees are working to get passengers on a new flight.
"We've confirmed Flight 577 departing Nashville experienced a bird strike shortly after takeoff," Southwest Airlines told Fox News in a statement. "The Captain in command safely returned the flight to [Nashville]. The aircraft will be taken out of service for maintenance review. Our local Nashville Employees are working diligently to accommodate those passengers on to their destination."
The forced landing comes one day after a Southwest Airlines plane engine apparently exploded in midair. The flight was en route from LaGuardia Airport in New York City to Dallas' Love Field before it was forced to make an emergency landing at Philadelphia International Airport around 11:20 a.m. The jet had 144 passengers and five crew members on board.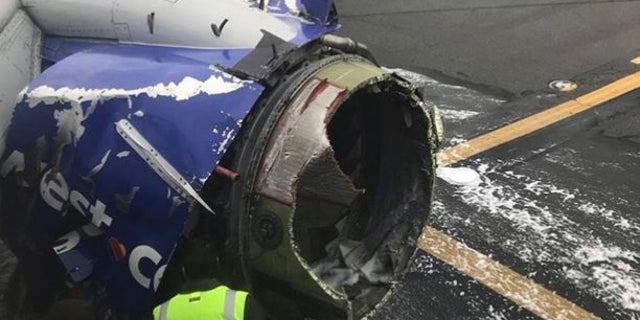 Flight 1380 made an emergency landing after the crew reported damage to one of the engines, the fuselage and at least one window, the Federal Aviation Administration said.
The National Transportation Safety Board said a preliminary examination showed that the blown engine had evidence of "metal fatigue."
During a later news conference, NTSB chairman Robert Sumwalt said one of the engine's fan blades was separated and missing. The blade was separated at the point where it would come into the hub and there was evidence of metal fatigue, Sumwalt said.
The Associated Press contributed to this report.