Southern California's Thomas Fire faces calmer winds, aggressive attack by fire crews
NEWYou can now listen to Fox News articles!
One of the biggest wildfires in California's history continued to threaten coastal communities Monday as fire crews hoped to take advantage of a two-day window of calmer winds before potentially dangerous gusts were expected to return mid-week.
Over 8,500 firefighters continue to battle the Thomas Fire in Southern California, which has burned for two weeks and killed one firefighter, destroyed more than 1,000 structures and threatened 18,000 more northwest of Los Angeles.
Firefighters on Sunday were able to take advantage of calmer winds to keep flames from the state's third-largest blaze mostly away from neighborhoods in the wealthy enclave of Montecito in Santa Barbara County.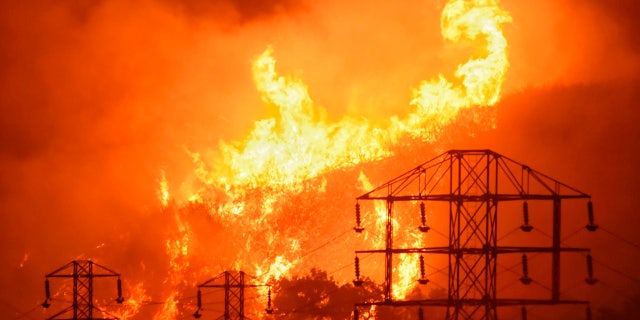 "The fire's burning in open country right now, which is away from homes, which is exactly where we want it," Capt. Rick Crawford, a Cal Fire spokesman, told the Los Angeles Times.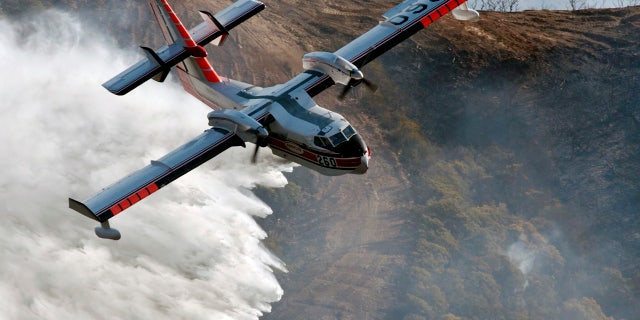 Crawford said cooler temperatures, slightly higher humidity and light winds forecast for Monday and Tuesday will be "critical" for firefighters hoping to make progress against the blaze. The hot, gusty winds that caused a huge flare-up and forced more evacuations over the weekend are expected to return on Wednesday.
Evacuation orders remain for large parts of Santa Barbara County, including the hillside communities of Montecito and Summerland, according to FOX 11.
SANTA ANA WINDS: WHAT ARE THEY?
The blaze has scorched 270,500 acres so far, an area larger than New York City and roughly the size of the Hawaiian island of Maui, and is roughly 45 percent contained.
The blaze crested a peak just north of Montecito, where evacuation orders remained in effect. Known for its star power, the enclave includes the mansions of Oprah Winfrey, Ellen DeGeneres and many other celebrities.
Actor Rob Lowe offered his heartfelt thanks to the fire crews battling the blaze, even serving them dinner on Sunday.
"Thank you to all the crews from all over the country who stood tall and saved my town," he posted on Instagram.
The scenes of celebration stood in contrast to that of the mourners who stood on freeway overpasses on Sunday to pay respects to firefighter Cory Iverson, 32, who died Thursday of burns and smoke inhalation. His funeral procession was scheduled to wind through five Southern California counties before ending up at a funeral home in San Diego, where he was based with a state fire engine strike team. He is survived by his pregnant wife and a 2-year-old daughter.
The Thomas Fire is also blamed for the Dec. 6 death of a 70-year-old woman who died in a car crash on an evacuation route.
THOMAS FIRE IN SOUTHERN CALIFORNIA JOINS LIST OF DESTRUCTIVE BLAZES IN THE STATE
Some evacuation orders were lifted Sunday to the east in Ventura County, where the blaze erupted, and officials reported making progress protecting the inland agricultural city of Fillmore.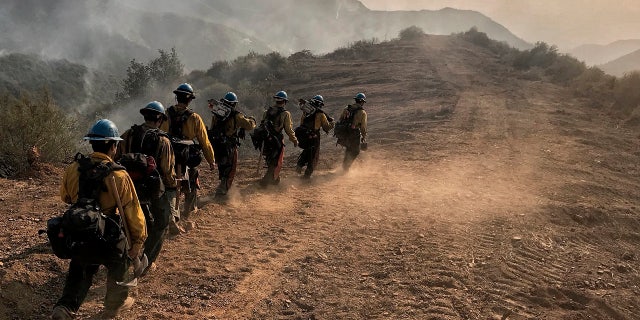 In the City of Ventura, Jim Holden returned to his neighborhood to find his home still standing amid widespread destruction. He told KABC-TV that at the height of the inferno, when it appeared his house would be lost, firefighters risked their own safety to retrieve his belongings.
"They broke in and they saved my family photos," Holden said, wiping away tears.
The cause of the Thomas Fire remains under investigation. So far, firefighting costs have surpassed $117 million.
The Associated Press contributed to this report.