Southern California police officer plays hopscotch to help homeless girl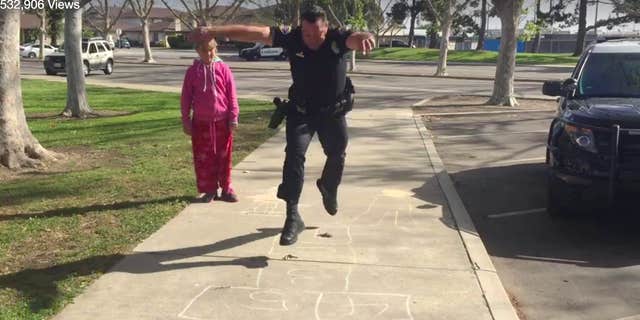 A Southern California police officer jumped at a chance to help an 11-year-old homeless girl on Wednesday.
Huntington Beach police officers found the girl and her mother living in a car in a parking lot, the Orange County Register reported. Officer Zach Pricer turned to hopscotch to help the girl feel more at ease.
Video shows Pricer and the girl jumping and skipping on a sidewalk. The 38-year-old officer explained the rules of the game to the girl then reached down to grab the marker, causing her to giggle.
"It distracted her from an adult problem," Huntington Beach Police spokeswoman Jennifer Marlatt told the Register.
This morning an officer checked on a suspicious occupied vehicle in the area of Graham and Edinger. During his investigation he learned the people in the vehicle were a mother and her 11 year old daughter and they had been living out of their car. The officer contacted our Homeless Task Force to help arrange housing. As the officer worked on housing arrangements with the mother, another officer on scene, Officer Pricer, began displaying his expertise in hopscotch to the daughter. #Copslovehopscotch

Posted by Huntington Beach Police Department on Wednesday, March 30, 2016
Price, a 13-year veteran of the force, said he used hopscotch as a tool to learn more about the welfare of the child.
"For an 11-year-old girl, to see a police officer towering over her is a scary thing," he said. "I was trying to break the ice and get her to feel more comfortable with me."
While Pricer played with the girl, Officer Scott Marsh contacted the Huntington Beach homeless task force to arrange housing for the pair.
The Associated Press contributed to this report.
Click for more from the Orange County Register.